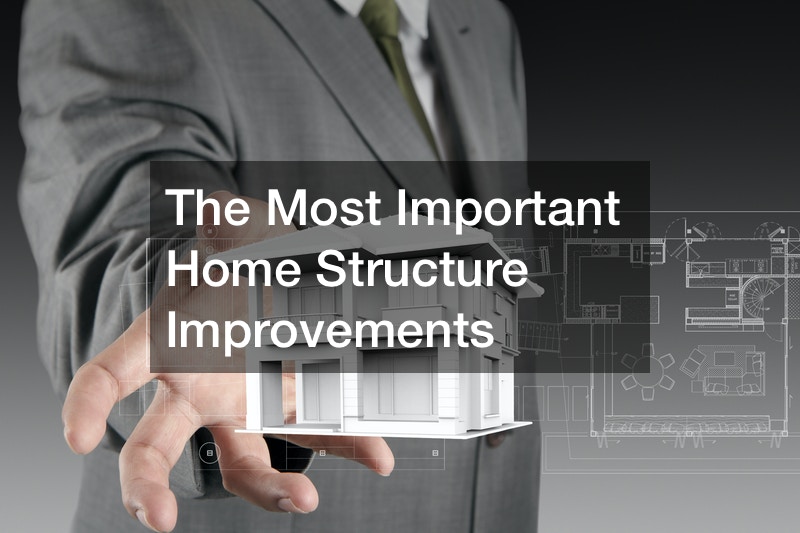 Are you struggling to find the most important home structure improvements for your house? If so, you aren't alone because this process can be very challenging. Therefore, it is crucial to take the time to understand these essential upgrades and how they will help your home stay structurally sound. Each of these steps will cost you money, so be prepared to budget yourself correctly to ensure you get the best results.
Fix Obvious, But Small, Home Damage Issues
The first step you need to take when choosing important home structure improvements for your house is paying attention to severe home damage. Every house needs to repair home damage from time to time. The extent of these problems can vary according to your home and cause potential problems with its structure if you aren't careful to get them fixed up right away.
For instance, broken or damaged gutters may not seem like a critical thing for your essential home structure improvements list. But they shouldn't be ignored because broken gutters can cause a surprising array of damage issues. They can damage your roof if they leak or get clogged and spill over. And they can cause foundation damage by pushing water onto the ground near your home and cause it to soak in.
Other minor problems that you may not see or notice include issues with your yard's structure that may let water pool against your home, problems with your roof that trigger leaks, broken or missing shingles, and problems with your house's siding. Make sure to pay attention to these concerns and hire a professional who can upgrade your home and ensure that it is in great shape for years to come.

Removing Serious Waste Problems
When you're looking to enhance your home and find important home structure improvements, you may not immediately think of some critical services. For instance, there is a good chance that you didn't think of the waste on your property and how it may affect your home's overall value and structure. In this way, waste removal is critical for homeowners who want to enhance their house and keep it as safe as possible from long-term complications with its overall structure and design.
What type of waste are we talking about here? There are many types your home may experience. For example, you may have a large number of building materials from past projects just lying on your property. These unused pieces of lumber, sheets of metal, and other elements may seriously attract a variety of pests, cause damage to areas of your home, and trigger a broad range of other troubles that you need to manage to avoid long-term damage properly.
Removal experts will come to your home, inspect the waste that is leftover throughout your home's interior and exterior, identify items that they think should go, and let you know what they want to do. Some teams will skip this step and take whatever you want or have packaged and ready to go. These teams often work very quickly and can promptly and efficiently clear out homes and yards for your needs.
Restoring Exterior and Interior Surfaces
You may look at your home's exterior and interior and think nothing of minor bits of damage that have accumulated over the years. For example, there may be a crack in your driveway that you've gotten used to and don't take the time to repair or upgrade. Or you might have a variety of damage problems to the interior of your home, such as torn carpets or other types of damage that you don't worry about fixing.
We understand that restoration services might seem excessive or even pricey for some people, but they are essential experts to work with if you want to make your home safe and structurally sound. They can provide a variety of long-term repair steps that will ensure that your home is restored correctly and do what they can to ensure that your home meets your needs and feels proper.
For example, they can restore damaged exterior elements like shingles, enhance critical interior surfaces of your home, and restore all of these areas to the strong level that they deserve. Often, this type of process requires the use of specialized tools and a handful of different upgrades that provide long-term help and specialized treatments that put these upgrades on your important home structure improvements list.

Treating Your Water Properly
Your water system is critical for your home's safety and comfort but is often one part of the house that many people forget or don't manage properly. Usually, it seems easier to tolerate hard water or funky smells because they don't seem serious. However, older plumbing systems may potentially spread dangerous elements, including harmful metals like in the Flint water disaster.
You can avoid this problem by calling a water treatment service professional who can test your water and see any problem with its operation. They'll check for various chemicals and metals and find a way to treat them. Don't ignore this treatment! People may find, with shock, that elements like sulfur or even poisonous chemicals may be in their water and could cause serious health dangers.
Water treatment should be on your list of important home structure improvements because there isn't much that you need to do to keep your home safe and secure. For instance, you'll have to install filters on your water sources to help eliminate these water problems. There are a few different ways you can approach this process. Some people will prefer to filter water off of their sinks or bathtubs, but others may add a filtration system at their water source. The first method is less expensive, but the second is more comprehensive and practical.
Upgrading Your Doors and Windows
The doors and windows of your home serve as important portals that should be kept in solid shape to avoid a myriad of problems. First, doors and windows provide extra structural support for your home and, if they're allowed to worsen and degrade, could endanger your home's stability. Just as importantly, doors and windows provide extra security for your home and family.
Therefore, it is essential to consider upgrading your doors and making sure that they are as strong as possible. For example, your entrance doors and all windows outside of your home should be inspected for frame damage and repaired. In some cases, you may need to spend good money removing and replacing these items. However, it is important to take these steps to avoid the kind of long-term problems you may experience otherwise.
Make sure that you pay attention to repairing or replacing your garage door, as well. These doors are typically quite strong but could be damaged and allow easier entrance for prying hands and eyes. Glass door replacement is another crucial step. These doors are strong but can be broken easily even by regular use. Upgrading glass panels is one of those important home structure improvements that you may not consider.

HVAC Repair and Upgrades
Your HVAC system is critical for your home's comfort and safety. Without solid heating and cooling protection, extreme weather will impact how comfortable you feel in your home. For instance, a lack of HVAC will cause your home to get very hot in the summer, which could cause heat exhaustion and even a heat stroke. Therefore, it is vital to ensure that this unit runs properly year-round by putting it on your list of important home structure improvements.
Your standard heating and air conditioning service will come into your home and inspect your system and all of its elements. They'll look at your heating and cooling unit and see if it is suffering from any problems that could cause it to fail. These problems include issues with various structural elements that could cause the system to run erratically and trigger other issues with its operation over the long haul.
Just as important, this group of experts will inspect your ducts to ensure that they are operating smoothly. The problems with your ducts can be legion and potentially devastating to your house. For example, cracks in your ducts will decrease your efficiency and rob you of comfort. Mold and other growths may spread through your system and cause more troubles. Mold will be discussed in more depth in our list of important home structure improvements.
Pest Management Problems
Do you have a large number of pests in your yard that you can't seem to get rid of properly? For example, mice, termites, ants, cockroaches, and many other vermin may not only settle in your lawn but move into your home. Many of these pests will cause damage to your home's structure, such as wearing down important support factors and causing flooding and roofing issues.
Therefore, your important home structure improvements list should include pest control services. These professionals will come to your house and look for symptoms of pest invasion anywhere in your house and yard. They'll figure out what kind of pests are bothering you, figure out where they are hiding, and take steps to manage them, including using various types of chemical or natural treatments.
Sometimes, you may need to hire a specialist to manage some pest problems. For example, a termite exterminator is trained to handle the often challenging experience of getting rid of termites. These pests have a way of getting deep into your home's structure and settling there for the long haul. But a professional exterminator will do whatever they can to ensure that your home is free of these critters.
Removing Mold
Mold and mildew are common health dangers that spread rapidly throughout a home and cause serious health dangers. For instance, people who are allergic to mold may develop long-term breathing problems. And they may also develop asthmatic symptoms that may become quite severe and cause lingering breathing troubles that may develop into more severe dangers and concerns.
That's why steps like mold remediation are so critical for homeowners. This process involves identifying where mildew and other growth troubles may develop in a house. Often, they start in the basement or ceiling, where leaks may develop. Mold needs a lot of water, darkness, and a cool temperature to begin growing, and these areas are often ideally suited for this situation and your mold treatment.
After identifying where mold is located in your home, specialists will dispose of it, remove damaged structural elements, replace them with new and better ones, and take steps to manage mold for you. This step should be on your list of important home structure improvements because most homeowners rarely take the time to perform this step, not realizing that they have mold in their home.
Installing New Flooring
Lastly, it is vital to start looking at important home structure improvements that may be right under your nose. Or in this case, your feet. Your flooring is probably the most important and most underrated part of your house's structural strength. Without the most robust flooring, you could end up experiencing slight damage to your home or even fall through your flooring in some areas.
Even if your flooring isn't that damaged, subtle problems can cause serious issues. For example, carpet is an inexpensive flooring option that may keep your home warmer than other types of flooring. However, carpet has a nasty tendency to get easily damaged or may even attract mold and other growths that can cause health issues for you and your family if they are allowed to spread without control.
You may want to replace your carpet or other types of damaged floors with hardwood flooring designed for extra strength in this situation. This type of flooring is often among the most durable and reliable and can last for decades with minimal maintenance. If you already have hardwood, don't forget to get upgrades and repairs to its surface to ensure that it stays solid and reliable for much longer.
Are You Ready for Upgrades?
As you can see, the most important home structure improvements are things that may seem obvious but which many people may easily forget. Make sure to take the time to properly renovate your home and add all of these new elements to its structure to keep it solid and secure for years to come. You can also improve your home's value and make it easier to sell if you want to flip it or make more money on this process.