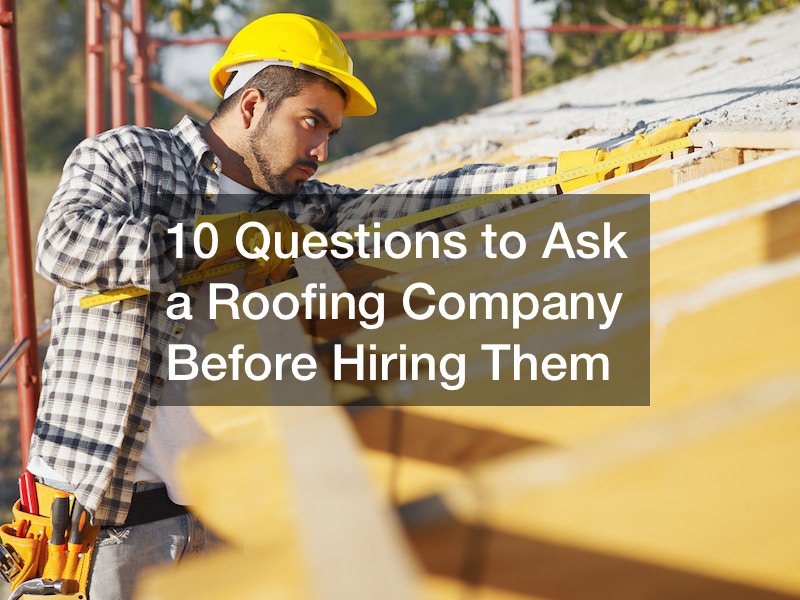 Getting a new roof is definitely a big decision that shouldn't be taken lightly. Not only does a new roof protect your home from harsh weather conditions, but it also plays an important role in your home's curb appeal. And let's not forget that there's a good chance your roof is one of your biggest investments during your life. So how do you go about choosing the right roofing company to install your new roof?
Well, roofing companies come in all shapes and sizes. From large corporations to mom-and-pop contractors, they all offer their services to homeowners across the country. If you want to get the job done well and save some money, there are a number of questions you need to ask local roofing company before hiring them. Knowing the answers to these questions can help you avoid costly mistakes when you finally decide to call on a professional roofer.
1. Are You Licensed?
It's important to ask local roofing company if they're licensed. A license indicates that the contractor has the necessary training and experience to perform the job. In addition, it shows that they've passed a background check and are up-to-date on their insurance.
Asking for proof of a license is the best way to ensure you're hiring a reputable contractor who'll do a good job. If a contractor isn't licensed, you should look elsewhere for someone to do the job.
2. Are You Insured?
This question is important because you could be liable for accidents or damage during the roofing project if they're not insured. Also, if the local roofers don't have insurance, it's likely that they're not a reputable company. A reputable company will have insurance to protect its employees and customers.
3. Can I Get a Detailed Estimate?
Any time you hire a contractor to work on your home, you should get a detailed estimate of the costs. This is especially important when it comes to hiring roofing contractors because roof estimates can vary greatly depending on the materials used and the scope of the work. When getting an estimate from a roofing contractor, be sure to ask local roofing company for a breakdown of the costs. This way, you'll know exactly what you're paying for and can make an informed decision about whether or not to proceed with the project. In addition, ask about any warranties or guarantees that may be included in the price of the estimate. This will give you peace of mind knowing that a qualified and experienced contractor is working on your roof.
4. How Much Experience Do You Have?
When hiring a roofing contractor, you want to ensure they have plenty of experience working on roofs like yours. Different types of roofs require different skills and knowledge to properly install or repair them. A roofing contractor with lots of experience will know exactly what needs to be done to get your roof looking its best. They'll also be able to troubleshoot any problems and resolve them quickly. So when you're looking for a roofing repair or installation service, ask about their experience level. It could make all the difference in the quality of work you receive.
5. Do You Offer Warranties?
A warranty indicates that the company stands behind its work and is willing to fix any issues. Regarding roofing, there are a few different types of warranties that a professional roofing service should offer. These include:
A manufacturer's warranty that covers defects in materials.
A workmanship warranty that covers any problems resulting from the contractor's work.
Some companies also offer extended warranties covering materials and workmanship.
Asking about warranties is an important part of choosing a roofing contractor and can help protect your investment.
6. What Services Do You Offer?
A roofing contractor can provide various services from roof installation to repairing and maintaining existing ones. When choosing a contractor, it's important to ask local roofing company about the range of services they offer. For example, some contractors may only offer roof installation, while others may also provide repairs and maintenance. Be sure to choose a contractor who can offer your specific service.
In addition to asking about the services offered, be sure to ask local roofing company about their professionalism. Choosing a contractor who's professional and qualified to work on your particular type of roof is important. Ask for references from past customers, and check them out. With a little research, you can find a reputable and qualified roofing contractor who can provide the services you need.
7. Do You Work ith Residential and Commercial Roofs?
While many contractors specialize in one type of roof or the other, working with both types of roofs gives a contractor a much broader range of experience. This experience can be invaluable for the residential roofer when it comes to choosing the right roofing system for your home or business.
In addition, a contractor who works with both types of roofs will likely be familiar with a wider range of products and materials. As a result, they'll be better equipped to recommend the best option for your particular needs. So when you're looking for a roofing contractor, ask local roofing company about their experience with residential and commercial roofs. It could make all the difference in finding the right contractor for the job.
8. Do You Offer Maintenance Services?
Any good roofing contractor will offer their clients some form of maintenance service. After all, your roof is one of the most important parts of your home, and it needs to be in top condition to protect you from the elements. A good roof maintenance program will include regular inspections, repairs as needed, and annual cleaning. This will help to keep your roof in good condition and extend its lifespan.
Ask local roofing company if they offer maintenance services and filter out the ones who are only interested in making a quick buck. If they don't offer maintenance, move on to someone who does. Your roof is too important to entrust to someone who isn't willing to take care of it long-term.
9. Do You Offer Yearly Inspections?
A roof is a critical component of any home, and it's important to ensure it's in good condition. One way to do this is to schedule an annual inspection with a roofing contractor. During a roof inspection, the contractor will check for any signs of wear or damage and clean the roof and clear away any debris. This can help extend the roof's life and prevent small problems from turning into big ones.
Also, an inspection can help identify any potential weak spots so they can be repaired before they cause extensive damage. As a result, asking a roofing contractor if they offer annual inspections is a good idea for anyone who wants to keep their roof in top condition.
10. What Kind of Roofing Materials Do You Use?
When it comes time to replace your roof, many roofing materials can choose from. Asphalt shingles are the most popular choice for re roofing services, but they're not the only option. Other common roofing materials include wood, metal, and tile. Each type of material has its own advantages and disadvantages, so it's important to choose the right one for your home.
For example, asphalt shingles are inexpensive and easy to install, but they don't last as long as other materials. Metal roofs are very durable and low-maintenance, but they can be quite expensive. Tile roofs are also quite long-lasting but can be heavy and difficult to install. When talking to roofing contractors, be sure to ask local roofing company about the different types of materials they use. That way, you can decide what kind of roof is right for your home.
The 4 Main Services Offered By Roofing Contractors
Roof Inspection
This is one of the main services provided by a roofing contractor. This service helps them identify the roof's problems before they start repairing or replacing the roof. If there are any defects in the roof, then they will inform the owner about it so that he can take the necessary steps to rectify the problem.
Roof Repair
This service is usually required when the roof has been damaged due to natural calamities like storms and floods. In such cases, the roofing contractor will inspect the damage and suggest how to fix the problem. They may suggest fixing the damaged area with new materials or using old materials which have been repaired earlier.
Roof Replacement
Roof replacement is mainly done when the roof needs to be replaced completely. The roofing contractor will first evaluate whether or not the existing roof is still functional. If it's found to be defective, then they'll replace it with a new one.
Roof Maintenance
This service is very important because if your roof is maintained properly, then it'll last longer than usual. A roofing contractor will check the roof regularly and ensure it's well maintained.
Tips For Finding A Good Roofer
The roof is the most important part of your home and can be a big investment. When choosing a contractor, you need to make sure you are getting the best value for money. These tips will help you find the right one for you.
Ask Around
When looking for a good roofer, ask around. Word of mouth is always the best way to find someone who does great work. If you know anyone who has had their roof done by them, they would be able to recommend a good company.
Check Online Reviews
If you've found a few companies through word of mouth, check out what other people have said about them on websites like Google or Yelp. These sites allow customers to leave comments about the service they received from the company. It's also a good idea to look at customer testimonials as well.
Ask Questions
If you want to get the best deal possible, don't hesitate to ask local roofing company any questions you may have as mentioned above. The more information you give the contractor, the better they can do their job. They should be happy to answer all your questions, so you feel comfortable with them.
Look at Their Portfolio
It's not just enough to ask if they have experience. You need to see some examples of their previous work. Look at their website and social media pages to see if there are any pictures of their work. You also need to consider how long they have been in business.
Get References
You should never hire someone without first checking up on their reputation. Make sure you call their references and ask them about their experiences with the company. Also, ask local roofing company if they would recommend them to others.
Now that you know what questions to ask local roofing company, you're one step closer to finding the right contractor for your needs. Remember to ask about the company's experience, licensing, insurance, and warranty policy. In addition, get a written estimate that includes a detailed breakdown of all costs. With this information in hand, you'll be able to make an informed decision about which roofing company is best suited for your project.