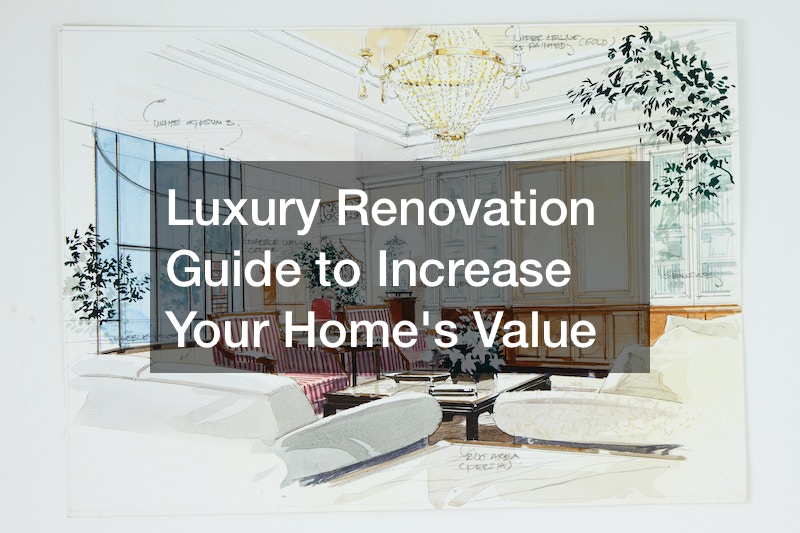 If you want to increase your home's value, a remodel is an excellent option. But luxury renovations can be costly, and it can be hard to know where to start. That's why we've put together this guide to show you how to make a big difference to your home's value without breaking the bank. From updating your kitchen to switching out your window treatments, these affordable options will give your home a high-end look without the high-end price tag. So, whether you're planning to sell your property soon or just want to enjoy your dream home even more than before, these ideas will help you boost the value of your house in no time.
Install a Patio
Installing a patio in your backyard is a great way to increase the value of your property and add a luxurious outdoor living space. Not only will it provide a place to entertain guests or relax and soak in the beautiful weather, but it also gives your exterior a greater visual appeal. Therefore increasing what your residence is worth.
One crucial aspect of patio installation is considering adding patio covers. Patio covers will provide a shaded area to protect you and your visitors from the rain and other unpleasant weather conditions. This makes it possible to use your patio all year round. In addition, adding a patio cover during installation undoubtedly increases your outdoor space's functionality and luxury.
Add a Unique Roofing Material
Installing a unique roofing material is a great way to give your home a luxurious and high-end appearance. Not only will it make your home stand out, but it will also increase your home's value. Roofing is a vital aspect of any luxury renovation project, and choosing a specialized and high-quality material can make all the difference. Consider materials like copper, slate, or metal for a modern, sleek look.
These materials have a longer lifespan than traditional shingles and are more durable. This can actually save you money in the long run. In addition, installing a unique roofing material adds an extra touch of elegance to your home you won't see on other properties.
Additionally, consider incorporating energy-efficient options such as solar panels or insulation to not only improve the aesthetics of your roof but also reduce your energy consumption and costs. These options are often eligible for tax credits and rebates, making them an innovative and cost-effective investment. A professional roofing contractor will help you choose the perfect material and type and install it correctly to ensure optimal performance and longevity.
Upgrading the Kitchen
Upgrading your kitchen is another fantastic way to increase your property's value and give it a more charming look. A great place to start is with custom cabinet makers. They can help you create a one-of-a-kind kitchen that will look amazing, be functional, and cater to your specific needs.
Custom cabinet makers help you achieve a high-end look using premium materials, advanced finishes, and unique designs. They also create cabinetry that maximizes storage space and allows easy access to kitchen appliances and utensils. By working with custom cabinet makers, you can upgrade your kitchen and make it a proper luxury renovation that will increase the value of your home and enhance your living experience.
Additionally, custom cabinet makers will incorporate modern technology and innovative home features into your kitchen, making it even more convenient and efficient. For example, you can install touchless faucets, built-in charging stations, and smart appliances that you and your family can control with your voice or a mobile device. It will make your kitchen more functional and more appealing to potential buyers if you decide to sell your home in the future.
Consider Adding Luxury Lighting Fixtures
As you embark on your luxury renovation journey, don't forget to illuminate your space with high-end lighting features. Add dimmer switches, recessed lighting, or a chandelier to create a warm and inviting atmosphere. And think about and explore your options for outdoor lighting in your patio or garden.
Hiring a skilled electrician to help you select and install the perfect fixtures is essential. Not only will it add aesthetic appeal, but you can relax knowing everything was done correctly and safely. Upgrading your space with luxury lighting features is a small change that really makes a big difference.
Lighting is a small detail that can enhance your home's overall aesthetic and functionality. With the proper lighting, you can create a warm, inviting atmosphere and make your home stand out. Include lighting in your luxury renovation plan, and work with a licensed and certified electrician to bring your vision to life.
Furthermore, you can add elegant lighting fixtures in or under cabinets in the kitchen renovation to complement your custom cabinetry and give your space a more modern look and feel.
Pave Driveways and Other Pathways
You're looking to add a touch of class to your property, and a luxury renovation, including the exterior, is the perfect way to do it. One way to add a touch of elegance and style is by having your driveways and other pathways paved or resurfaced.
By hiring a professional asphalt paving company, you can have custom-designed pathways to complement your home's outside appearance. Not only do these pathways add to your residence's overall aesthetic, but they also offer a functional solution for navigating your property. For example, upgrade your driveway with an affluent paving stone, or create a meandering pathway to your newly completed patio area through your garden. Whatever your vision, an expert team can bring it to life in these areas that you've likely not thought about upgrading or updating.
New Window Treatments Make a Difference
Installing new window treatments can make a big difference to the overall ambiance of your house. With a wide range of options available, you can choose from classic curtains, modern shades, or even motorized blinds for added convenience.
Think about hiring a professional curtain cleaning service to ensure your new window treatments stay looking fresh and clean. Quality window treatments add value and aesthetic appeal. This is one of the most affordable luxury renovation options available to you.
New window treatments can also help improve energy efficiency by keeping out drafts and regulating the temperature in your home. It will result in lower energy bills and a more comfortable living space. So, not only will new window treatments enhance the appearance of your home, but they will also provide practical benefits. It's a win-win situation and an easy and affordable luxury renovation solution that pays you back!
Upgrading Heating and Cooling Systems
Upgrading your HVAC systems is a great way to increase the value of your home as well, and it also makes it cozier to live in. With the help of AC repair services and heating and cooling installations, you can add new, energy-efficient systems that will keep your home cool in the summer and warm in the winter.
A luxury renovation like this can make a big difference in your home's comfort, and new HVAC systems actually also improve the air quality. It can also save you money on utility bills in the long run. So, consider upgrading your HVAC system an investment more than an expense when it comes to making home improvements.
HVAC service professionals can also help you with other features, such as programmable thermostats, air purifiers, and humidity control systems. These extra options provide additional conveniences and give you peace of mind your property is being controlled in the most advanced way possible.
Did you know that new HVAC systems can be connected to smart home technology, too? It allows you the choice to operate your home's temperature remotely using your smartphone or tablet. It can be especially appropriate for those often away from home or for those who want to have more authority over their home's energy usage.
Overall, upgrading your HVAC systems is a great way to make your home more pleasant for you, your family, and your guests.
Replace the Garage Door
If you're looking for a reasonably priced luxury renovation option that will make a big impact on your home's value, consider replacing your garage door. A new garage door install will provide a fresh and updated look to your home's exterior while also improving its energy efficiency and security. When choosing a new garage door, explore materials like wood, steel, and aluminum, and look for options with insulation and weather-stripping options.
You can also select from styles, such as traditional raised-panel doors, modern flush-panel doors, and carriage-house-style doors. Additionally, you can contact garage door installation services to help you choose the right one that fits your style and budget. A new garage door is a simple upgrade that can make a big impression, and it's also a great way to boost curb appeal.
Switch to a New Engineered Septic System
Replacing your old septic system with a newly engineered one can be a game changer for your luxury renovation. It improves the functionality of your home, and it also adds excellent value to your property. An engineered septic system is designed to handle more wastewater and is more efficient than traditional systems.
Upgrading your system can be daunting, but working with a reputable septic company will make the transition seamless. They will handle all the necessary permits and inspections, as well as the installation. Upgrading to an engineered septic system is an intelligent investment for any luxury renovation. It will provide peace of mind knowing that your home is equipped with a reliable and efficient system that is built to last.
Complete All Necessary Home Inspection Services
When it comes to luxury renovations, completing all necessary home inspections is crucial to ensure your home's value is maximized. One necessary inspection to consider is pest control. Pests such as termites, ants, and rodents can cause significant damage to your home, significantly decreasing its worth.
Hiring a professional pest control company to inspect and treat your home thoroughly lets you rest easy knowing that any potential pest issues have been addressed. Having a pest-free home and proof that the service was completed will also give potential buyers peace of mind when considering purchasing your property. It's an often-overlooked aspect of luxury renovations, but it is vital to keep in mind.
Furthermore, it is also essential to thoroughly examine and assess the home's structural integrity, electrical and plumbing systems, and HVAC systems by hiring professionals. It will help you identify any problems before they become more significant issues. In short, completing all required home inspections is a smart move when it comes to luxury renovations, and it can save you time and money in the long run.
In conclusion, luxury renovations can greatly increase the value of your home. These renovations can include quick and easy options like upgrading your HVAC system and customizing your kitchen, or you can get more in-depth with home improvements like installing a newly engineered septic system. Not only do these upgrades and modernizations add value to your home, but they also make your place more comfortable and functional for you and your family. By working with the right experts and specialists, such as AC repair services and custom cabinet makers, you can ensure that your luxury renovation is done efficiently and effectively.
Also, keep in mind how crucial it is to complete all necessary home inspections, including fire safety checks, to ensure your home is in peak condition. In addition, take into consideration that plenty of these renovations are actually investments in your future because, with upgrades that improve efficiency, you will save money on things like utility bills from energy usage. With these tips and solutions in mind, you can start planning your luxury renovation today and increase the value of your home.