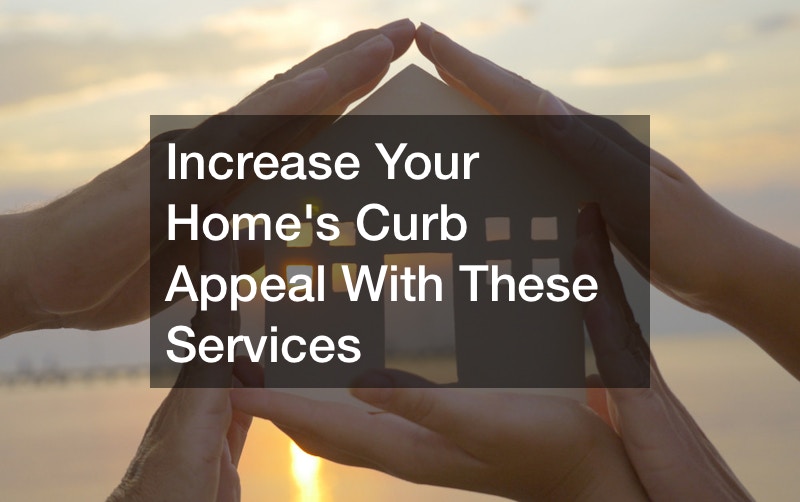 Even if you don't have immediate plans to sell, curb appeal plays a crucial role in your home-owning experience. You should enjoy walking up to your home after a long day in the office. Enhancing your home's exterior will require the help of professionals. Here are residential services to hire to increase your home's curb appeal.

1. Fencing Services
A new fence will instantly enhance the aesthetics of your home's exterior. With so many materials, designs, and colors, you can find a fence that matches your home's architecture and style. While it may be tempting to DIY the job, installing a fence is quite complex and can present unique challenges. A professional fence installation service is among the essential residential services to hire to increase your home's curb appeal.
A professional fencing contractor will provide valuable recommendations on the best materials, designs, and colors for your property and location. They'll also offer experience-based style and placement suggestions. With their expert knowledge, you'll have a functional and aesthetically pleasing fence that will increase your home's curb appeal.
Installing a fence requires various tools and equipment, some of which are specialized. You won't have to worry about purchasing or renting costly equipment for a single fencing job because fencing professionals have access to all the necessary tools. Thanks to their years of experience working with fence installation tools, they lower the likelihood of making expensive mistakes. A professionally installed fence will save you money in the long run on repairs and replacement.
2. Window Installation Services
You may not realize it, but installing new windows can significantly improve your home's curb appeal. Curb appeal describes the artistic perspective of your home as seen from the sidewalk or street. People immediately see the windows, angles of the roof, and the outline of the porch, front door, posts, handrails, and gables.
How these visuals come together significantly impacts your home's curb appeal. Installing new windows allows you to upgrade worn materials. It also allows you to match the windows with the architectural style of exterior components, such as the front door and siding.
Regardless of when you want to sell your house, you likely have your eye on your property's value. The factors that affect this value are often ones you can't control, such as your proximity to amenities and the local real estate market. However, there are several ways to positively impact your home's value, and replacing your windows offers one of the best ROIs.
You may anticipate at least a 70% return on investment when you install new windows. So if it costs you $10,000, you can increase your home's value by at least $7,000. This ROI is higher than most home improvement projects and can help your home sell faster.
If your home needs window replacements when you place it on the market, prospective buyers will notice immediately. They may use it as leverage to negotiate a lower asking price. Even worse, they may withdraw their offer in favor of a move-in-ready house.
Consider windows such as energy efficient impact windows for replacements. They withstand high winds, heavy rain, and other severe weather conditions. These windows feature laminated glass held together by an interlayer that prevents it from shattering.
They're also energy-efficient and can help reduce your energy bills. For the best results, consider professional window installation services as one of the residential services to hire. They'll offer recommendations for the best window replacements for your home and ensure correct installation.

3. Roofing Services
Roofing services are among the residential services to hire to maintain and enhance your property's curb appeal. The roof is one of the most visible components of your home. When well-maintained, it can give your home a fresh and modern look. Whether replacing an old, worn-out roof or making repairs, a professional roofing service such as a metal roofing contractor will improve your home's aesthetics.
Replacing an outdated or damaged roof can instantly give your home a facelift. It'll also increase your property's value. A roofing professional can help you choose a roof style, material, and color that complement the rest of your home's exterior and enhance its curb appeal.
Regular maintenance and repairs from roofing services can also help maintain and enhance your home's curb appeal. Damaged or missing shingles, leaks, and other roofing issues can make your home look unkempt and uninviting. A professional roofing service can quickly and efficiently repair any issues, preventing further damage and improving your home's overall appearance.
4. Tree Trimming Services
Your lawn significantly impacts your home's curb appeal, not just the structure. Potential homebuyers look for certain things in a home's exterior, and overgrown, unkempt trees aren't among them. Buyers may overlook your property if your tree's limbs are hanging over your house and generally don't appear like they've been well-maintained. Most don't want to fork out more money on a fixer-upper, and overgrown trees can make a home with a great interior seem like it's falling apart.
Professional tree trimming offers a solution for this issue. It'll benefit your home's aesthetic value and enhance its safety. By getting rid of overhanging limbs; you're also getting rid of the possibility that they'll fall and damage your property. While your property is on the market, potential buyers will see the well-maintained trees and feel perfectly at home.
In some cases, tree removal may be necessary. Due to the risks involved, a professional tree removal service is among the residential services to hire. While it's possible to chop down a large tree, there's a high chance it may fall and hit a car, shed, home, or fence.
Like with stumps, dead trees harbor pests, insects, and diseases that healthy trees don't. They pose a health hazard. Storm-damaged trees may end up spreading illnesses and attracting pests.

5. Bathroom Remodeling Services
A bathroom remodeling company is also one of the residential services to hire. There are several benefits to hiring a professional house remodeler. One of the most notable is they have the experience and knowledge necessary to do the job correctly. A bathroom remodel is a complex undertaking, and if not executed correctly, it may result in costly repairs in the future.
Working with professionals can also save you money. They know where to find the cheapest deals for the best materials and often have access to supplier discounts. Professional bath remodelers also have a network of contractors they work with, which can save you money and hassle. They'll also offer recommendations for the best layout design.
To do this, they'll consider your personal preferences, the existing fixtures, and the size of your bathroom. It'll ensure your new bathroom is aesthetically pleasing and functional. You'll also enjoy the peace of mind of knowing your project is in safe hands and will be finished on schedule.
6. Solar Panel Installation Services
With the rising temperatures of the summer, your energy bills will also rise. Solar panels offer a way to offset energy costs and lower your home's environmental impact. However, you must work with solar panel installation services among the residential services to hire to realize these benefits fully.
Professional solar installers have the experience, knowledge, and expertise to install solar panels correctly and optimize the system for maximum energy efficiency and output. They can modify the system to match your home's unique requirements using accurate calculations, measurements, and knowledge of solar technology. The pros are also familiar with local building regulations, codes, and utility requirements, guaranteeing that the job is done right and complies with all relevant laws and regulations.
One of the most important aspects of solar installation is the quality of the materials. Qualified solar installers only use the best materials to ensure your system performs better in harsh weather conditions and lasts longer. Doing this improves your home's energy efficiency and ensures long-term durability.

7. Siding Services
A professional siding contractor is among the residential services to hire to increase your home's curb appeal. Whether constructing a new home or remodeling an old one, the right siding material will transform your home's aesthetics. It'll add depth, texture, and visual interest.
There are several siding material options in the market today, each with unique benefits and characteristics. For instance, vinyl siding is popular for its minimal maintenance needs, affordability, and variety of colors and patterns. Other popular options include fiber cement, wood, and metal. Regardless of the material, siding can provide an extra layer of insulation, increasing energy efficiency and saving you money on utility bills.
Siding can enhance your home's architectural style and complement exterior features such as windows, doors, and roofing. You can create a unified and beautiful exterior that blends with the surroundings by picking the right color and texture. A well-maintained siding can add to your property's value, making it a wise investment if you want to increase the resale value of your home.
8. Countertop Installation Services
Countertop installation services are also among the residential services to hire. Whether you're planning a complete kitchen remodel or want new countertops, updating these surfaces will benefit your daily life and have long-term effects. Because they increase your home's value, high-quality countertops are a great investment if you plan to sell. In particular, granite countertops will increase the appeal of your house to potential buyers if you ever decide to sell.
If you're considering replacing your outdated countertops, you likely want a higher-quality one. A replacement allows you to choose a material that offers superior performance. Certain countertops are more scratch and damage resistant, while others are easier to keep clean and maintain. Others have better resistance to heat, acids, oils, and liquids.
Investing in a new but affordable countertop will also allow you to choose a material that better complements the aesthetics of your kitchen. For example, soapstone or limestone countertops add a timeless charm to country and rustic kitchens. Quartz countertops like Cambria and Caesarstone look great in various kitchens but are particularly great for ones with a modern style.
9. Cabinet Making Services
Custom cabinet companies are also among the residential services to hire to enhance your home's aesthetics. One of the most notable benefits of custom cabinetry is that it can be modified to match your kitchen's unique design and layout requirements. For instance, if you're installing kitchen cabinets in an awkward-sized space or around a feature such as a kitchen island, you can benefit from custom cabinets. Your contractor will modify them to fit your home specifically.
Because cabinet-making services can make custom cabinets from various remarkable materials per your preferences, they're often of excellent quality. Because they're typically handcrafted, each feature and finish is distinctive and ensures higher durability than other varieties. A home with a beautiful kitchen commands a premium real estate value. As kitchen cabinets are one of the major kitchen components, having a set of unique and aesthetically pleasing cabinets will attract serious potential buyers if you plan to sell.
10. Garage Door Installation Services
There are numerous benefits to having a garage door installed by a professional garage door installation service. First, it can increase your home's curb appeal and overall value. A well-functioning garage door can also improve the security of your home by providing an additional layer of protection against intruders. Additionally, a new garage door can improve your home's energy efficiency, helping you save money on your energy bills in the long run.
Garage door installation services also offer warranties, giving you peace of mind knowing that your investment is protected. In addition to installation, garage door repair companies can provide regular maintenance and repair services to ensure your garage door stays in good working condition. Regular maintenance can help identify and prevent potential issues before they become major problems, saving you time and money in the long run.
Investing in your home's curb appeal will increase your home's value and improve our home-owning experience. Use this read as a guide for the services you need to keep your home looking great.