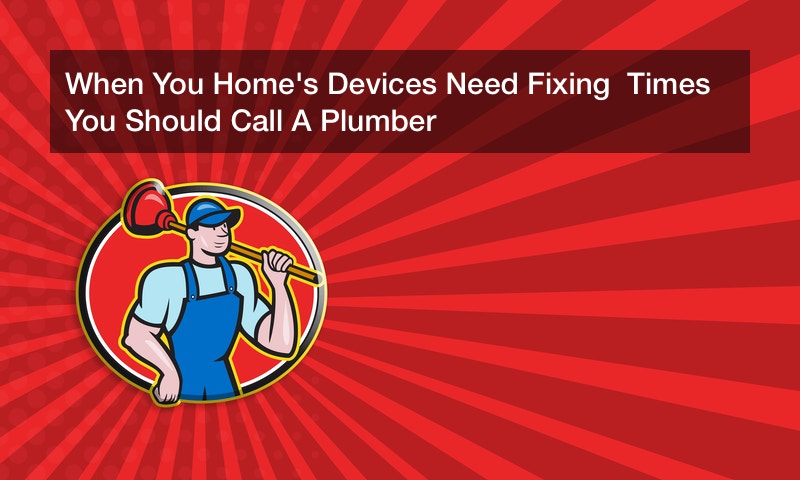 In the United States and around the world there are millions of individuals who own homes. When individuals acquire the title of homeowner, they automatically gain many responsibilities. These responsibilities include, but are not limited to, paying bills such as water, heating, electric, and cable; keeping the home clean and in order; and ensuring that all devices, applications, and products within the home are working properly. Essentially, homeowners are in charge o everything in the home. For the most part, homeowners are experts in ensuring that their home runs smoothly. However, there are times when things begin to unravel, specifically with plumbing. Although this can seem overwhelming, there is a fix! If you're having issues with plumbing, your home's devices or applications, here are times you should call a plumber.

Local Plumbing Services

A local plumbing services hires local plumbers within your area. These plumbers eventually develop the experience and expertise to manage many different plumbing emergencies, issues, and problems within your home. You can certainly trust a plumber for all of your home's needs. After all, a plumber will get your home running back to normal in no time. You should call he or she whenever your home is experiencing these problems:

Leaks: Leaks are quite possibly the most common issue a home can face on a daily basis. These leaks can occur in kitchen faucets, bathroom faucets, within various pipes, and in many locations throughout your home. This is not only a problem, but typically an annoyance for you as the homeowner.

Now, some leaks can be fixed on your own. You'll simply have to go to your local hardware store to purchase the tools required to mend the leak. However, a do-it-yourself project always runs the risk of making the problem worse. So, it is always wise to call a plumber when an appliance in your home is leaking.

This is especially important because leaks waste water. A faucet, whether in the kitchen or bathroom, can waste up to 3,000 gallons of water every year. A leaking shower head can waste up to 500 gallons of water every year. This gallon waste of water then has the potential to raise your water bill. If you want to save money on your water bill, it is best to call a plumber to fix your leaking appliances.

A plumber has the tools to repair pipes or replace them if need be. Therefore, the leaks within your home will be a thing of the past.

Clogs: The second most common home issue, in which you should call a plumber, is clogs. These clogs typically occur within your home's drainage system. Some clogs, such as a toilet clog, can be mended with a plunger that you can purchase from your local hardware store. However, more serious clogs can affect other areas of the home. One clog is a shower drain clog. A shower drain clog is caused by an ample amount of hair, shampoos, soaps, and other products. These materials accumulate within the pipes of your drain. Additionally, as the accumulate and sit there, they develop an odor.

This odor is not only unpleasant to your senses, but they can begin to spread to other areas of the home. So, if you want the water to flow throughout the pipes in your home, if you want to take a shower, and if you want the odor in your home to disappear, you should call a plumber to fix the clog.

Water Heaters: A plumber doesn't simply fix common issues within the home. If your water heater is not producing the correct temperature of water, or any water at all, a plumber can fix this. In addition, a plumber will also replace, inspect, install, and repair any type of water heater issue your home may have.

Sewer Cleaning: A sewer system is imperative to a home. This is where the waste and other materials from your home collect. This is ideal because you don't want waste in your home. A plumber will perform a cleaning every year in order to keep your home clean, bacteria free, and toxin free.