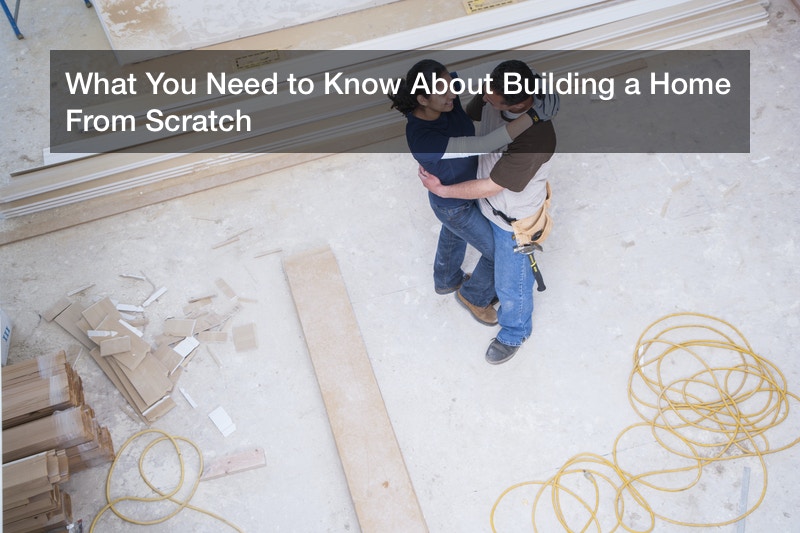 Is building a home from scratch your dream? About 1.20 million new houses are constructed every year in the US. Building a home from scratch is not necessarily the easiest way to get into a new home, but most homeowners that have taken the journey, agree that in the end, it was well worth the effort.
Building a home from scratch can be a long process, especially when you are building a custom home. It is not something that happens overnight, but the end result, is you get your dream home.
Where Do You Start?
If you are in the early stages of building a home from scratch, you may be wondering exactly where do you start. The place most people start is by picking out their homesite. Your first step in the process is deciding where you want to build.
Construction loans are easier to secure if you own your own property, but that means you cannot secure them if you don't. A lot of builders will offer home, land packages. However, if you are going to build your home from the ground up, you might as well, look for property that speaks to you to build on.
Choosing the property to build on requires some thought and some inspection. Buying property that does not perc right can mean not being able to build on that property. Or buying a property where the slope of the property is too high, can mean pouring a lot more money than you plan on to level things off a bit so the property can be buildable.
Before you make the decision about buying a piece of property to build on you should consult with experts about the feasibility to build on the property. There is a specialty branch of home inspectors that focus on inspecting land that can help ensure that you are making the right buying decision.
Once you have your property picked, it is time to take the other steps necessary for building a home from scratch.
Wait! Before a Brick Is Laid You Have to Do These Things
Unfortunately, having the building site picked out, does not mean the builder can get started. There are a few things that have to be done to the property before the builder can start working on the building:
Land survey
Bringing in water lines, setting up sewer connections or having septic installed
Bringing in electricity
A land survey will tell you where the best place to put your house is going to be. A land survey can also discover any natural springs on your property that you may want to avoid. If you are building a house from scratch many times services like public water, electricity, and sewer service has not been connected before.
Having all those things done first will make the job easier for the builder. While you can potentially have your builder start the project before you get those things done, it is strongly recommended that you do not. It is easier for all parties involved if you follow a timeline of utility installation first, then building activities.
A land survey is often provided by the building contractor. It will outline where the house is to be built based on some pre-established criteria like the grade of the land, natural springs, proximity to the road, and other criteria.
Of course, if you have bought a piece of property that is forested, trees will have to be removed for the project as well. Most people that are building a home from scratch have the same question when they realize how many things need to be done before the build. They want to know how long it will all take?
Prepping your land for the build can take anywhere from a few weeks to a couple of months. It all depends on:
The amount of work that needs to be done. For example, do you have a heavily wooded lot that needs to have quite a few trees removed? What about grading? Do you need fill? All of these things can either add time to the preparation or reduce the amount of time.
The weather. Unfortunately, weather delays are common in these cases.
Financing. If you are doing pay as you go plan, then how much you can afford to do each week will be a factor.
Other delays can include waiting for the utility companies to be able to schedule you in. In other words, you should expect this part of the project to take anywhere from about 6-8 weeks, longer if the weather is uncooperative or there are other delays.
The Details of Building a Home From Scratch
Building a home from scratch is so exciting but there are so many things that have to be done to ensure that you get the results that you want. In most cases, but not all, your builder will handle all of the building permits, but if you are going to act as your own GC (general contractor) that task will fall squarely in your lap.
Many people choose to be their own GC because of the cost savings, but you should know if you make this choice, you have a lot of hard work ahead of you. The function of a general contractor is to manage the entirety of the project which includes:
Managing permits and inspections
Hiring and managing the workers and specialty contractors
Addressing any obstacles that come up
If you act as your own GC you will be responsible for all of the above. If you are going to oversee the project yourself than it is strongly suggested that you get familiar with the permit process in your county. Permits can take a while to secure depending on where you live. Part of the process includes periodic inspections of the build like when the septic is installed, the electrical is being done, and other parts of the build.
There is a cost for permits as well that varies from county to county that you have to pay when you apply for the permits. Understanding how to fill out the forms and how the forms need to be submitted is very important. Permits often sit in limbo because of missing or inaccurate information. Follow the rules and make sure you double-check your application before submitting it.
You will need an insurance policy in place for the property before the build can start. The insurance is in place to protect you. Shop around and compare pricing because the pricing can vary widely. Connect with an agent that specializes in this type of insurance.
If you are going to be the GC for your home build, be sure that you familiarize yourself with every part of the process. Make sure you get at least three quotes for every part of the project. For example, get three quotes from three separate plumbing companies, electrical companies and so forth.
The easier way to do things, is to hire a GC for the project. The cost is well worth it. It will save you a lot of headaches and a lot of stress. It will also help to avoid delays that can crop up when you are trying to do things on your own.
Now The Build
There is a litany of decisions to make when you are building a home from scratch. For example, what type of new roof do you want for your home? Are you looking at metal roofs? Asphalt shingled roof or something a bit more dramatic?
What type of exterior are you picturing? Vinyl siding that you can hose off to clean up or something that is going to require exterior painting service every few years? What about the interior? There is a litany of decisions to make including:
Archietectural features inside and outside.
Finish work like cabinetry, flooring, paint colors, and other design elements.
Type of heating and cooling system.
How custom do you want your home? Do you want custom architectural metalwork adorning the exterior or key interior areas? Are you okay with simple exterior doors or do you want something that really wows?
There are so many decisions that you will have to make both before construction gets started and during construction. How do you make all those decisions? You start with your vision, then you weigh your vision against your budget.
Most people have to make some tough decisions when it comes to their vision and their budget. For example, ornate custom solid wood doors may be the vision, but you may have to settle for hollow metal doors that provide the height of security and are more affordable.
Frankly, going over budget is a common pitfall of building a home from scratch. Going over budget can really dampen the excitement of building a home from scratch and make the entire process very stressful. How can you stay in the budget? Here are a few tips:
Consider the long term value of the decision. When you are making decisions for your home, consider what value that decision will have in the future. For example, will that on-demand water heater system deliver the cost savings and energy savings that can help to curtail the cost of running your home?
Stay flexible. Instead of thinking of compromises as losses consider the positive side of the compromise.
Ask for discounts. A lot of vendors and contractors will discount their services and products, but you have to ask. Do not be afraid to negotiate for a better price.
During the process of building your home you will have to learn how to weigh out the value of your decisions. For example, you need heat for your home, is the cost of geotechnical engineering worth the expense? While right in this moment it may seem like adding that cost is not worth it, you have to sit back and look at the bigger picture. Heating costs are some of the most expensive costs a home has, if you could tap into the geothermal heating options and save a ton of money over the next decade, that cost would be well worth it.
When you are making decisions for your home it is important that you use your budget as a guideline but maintain your flexibility. You have to be able to weigh must have's against wants, and put your money into the must have's first and consider adding the wants down the road.
For example, you may want an outdoor patio with a hot tub and all the bells and whistles, but you need to pay for air conditioner installation. You can add that fabulous patio and hot tub down the road, but you cannot live without reliable air conditioning in certain regions.
While it is important to stay on budget, it is equally important to not sacrifice quality or to cut corners when it comes to the important stuff. It is also equally important that you can evaluate the value of the cost. For example, your new home needs a lawn, you can choose to invest in hundreds of dollars worth of grass seed and hope for the best or you can get the job done professionally like with a hydrograss installation and get guaranteed results. Where is the value in that example? It is in the guaranteed results.
You may have to make some concessions and adjust your vision a bit to fit your budget, but you can still have a great space to call home. If you get stuck on any decisions, reach out and get some professional advice.
Another way to ensure you are making good choices for your home is to do the research. Read reviews to learn more about products and how they perform by real users. Again, if you are stuck on a decision reach out to people in the know. Every decision that you make for your home is an important one.
Enjoy the Process
Yes, it is stressful building a home from scratch, but it is an amazing process to see your dream come to life. Slow and steady wins the race in these matters, so take the time to do things right and really enjoy the process.