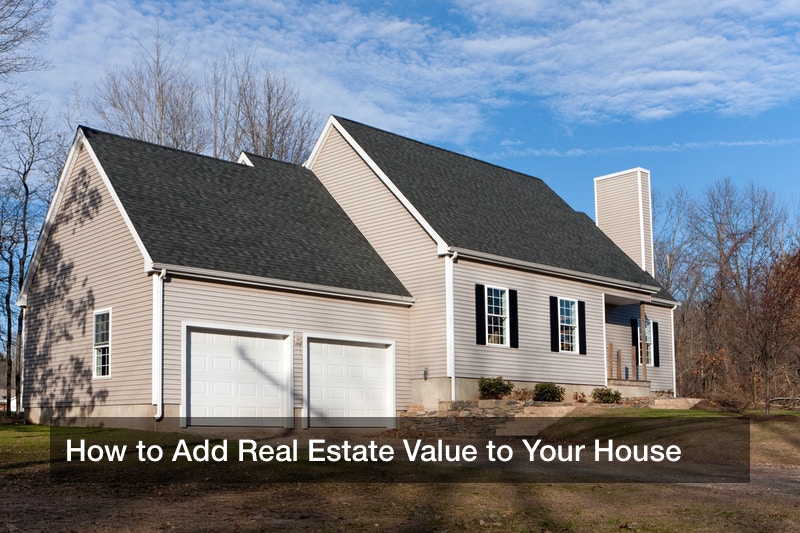 In 2020, home improvement and renovations totaled over $350 billion in the United States. When it comes to home updates, homeowners are always looking for the best ways to both beautify and increase real estate value. While there are many different ways to accomplish this, not all home improvement projects will garner the same returns. To help you better understand the ways you can add the most value to your home, here is what you need to know.
Increasing Security
One of the best ways to add value to your home is by boosting security. Not only does this make your home more appealing to future buyers, but it can also give you peace of mind while you're there. This makes it a great investment even for people who aren't planning on selling shortly.
Professionally monitored security systems have become a popular option in recent years and they can offer an extra layer of security that home monitors alone cannot. For instance, if an alarm or camera is triggered by something, a security professional will be notified so that they can review the footage. If any suspicious activity is noted, they will attempt to notify you and if you are unavailable an emergency responder can be notified instead. The addition of a third-party human reviewer can help mitigate errors that smart systems on their own can miss. They can also provide an easy way to contact emergency services if you're unable to yourself. This type of security improvement is something that many homeowners have been turning to in recent years.
Similarly, car cams and video doorbells have likewise seen an increase in popularity. One of the reasons for this is the uptick in porch theft where boxes or other items are stolen by an unknown party. Having cameras that can record the area in front of your house can help give you coverage should a crime like this happen to you. With some doorbell cameras, you can even monitor whoever comes to your door in real-time on your phone. This can grant you an additional level of security as you'll always be able to see who is at the door no matter where you are.
Some home security systems can even be integrated with other smart devices such as thermostats, lights, and door locks so that you can trigger them remotely. This can be handy if you're going to be coming home after dark and would like to trigger some lights so that you can see inside once you're home. Being able to turn on the lights remotely can also help deter would-be thieves who might try to target your house thinking you're not there. Furthermore, if you get a  locksmith to install a smart lock, you won't have to worry about fumbling with your keys after dark, further increasing your safety.
If you're currently working from home, or otherwise share important details over the phone, a voice server is something else to consider investing in. Voice servers work by providing a secure channel on which you can connect with other employees or people with whom you are sharing sensitive details. Phone calls can often be a great source for unsavory parties to gain access to sensitive data, but thankfully voice servers make it harder for outside parties to gain access. The best part is that they can be wirelessly used, meaning you can easily consolidate it with your other smart security features all on your smartphone.
Home security improvements like these can have the additional benefit of lowering your homeowner's insurance costs since they can help prevent break-ins or thefts. This means that you could be both raising your real estate value while also lowering the costs of your insurance while you live there. In some cases, the reduction can be more than the cost of maintaining the system which is a real boon. For reasons like this, security is one improvement to seriously consider.
Aesthetic Value
While security improvements can increase value, you're not going to get much interest in the market of your home is outdated or aesthetically displeasing to look at. Curb appeal is all about making a good first impression, and your home should be both eye-catching and inviting. You want to be able to draw in buyers and make them want to see what is inside. This means investing a little bit of time and money on ensuring that your landscaping is well-maintained and free from dead trees, bushes, and other debris that may be considered an eyesore. If your yard appears dull when compared to your neighbors, you may even consider planting some flowers or adding other fixtures to help your exterior stand out even more.
If you would like to begin spending more time outside, you may even want to consider hiring a professional landscaper to help you design the best outdoor space for you. This can include creating a patio, outdoor dining space, or a firepit for nighttime relaxing. Depending on your specific desires, many different improvement options can help you both enjoy your home more and raise its overall value.
Once the outside of your home is improved for maximum curb appeal, you should turn your attention to the interior of your home; specifically the kitchen and the bathroom. These two areas are the most widely sought after by homebuyers, and improving them can help raise interest and value.
For bathrooms, consider updating any old outdated features and replacing faucets, showerheads, and toilets with water-saving options. Your bathroom countertops should also be considered for replacement, especially if they are old or stained from use. While there is a lot you could do with your bathroom space, even updating the flooring and fixtures alone can garner you a nearly 70% return on investment.
Similarly, a minor kitchen renovation can see up to an 81% ROI on its own. In this area consider replacing the flooring and any older appliances that may not be energy efficient. Most modern homebuyers look for homes with energy-saving appliances and favor those who already have them installed. Even a simple dishwasher improvement can work in your favor if you're replacing an older model that used too much water and electricity.
In general, it's always good to consider replacing outdated appliances with more energy-efficient models. Even if you're not planning on selling shortly, improvements like this can save you hundreds each year by reducing energy and water consumption.
A good rule of thumb when improving the interior of your home is to keep the color scheme as neutral as possible while incorporating modern styles and trends. You'll also want to stay away from adding carpet if you're thinking of replacing flooring. Carpeting can wear down fairly quickly and many homebuyers prefer the cleanliness and ease of tiled or wooden alternatives.
If you're looking for ideas of what buyers in your area are looking for, you may even wish to speak with a local real estate agent to learn more about the amenities that are popular in the area. This can help give you an idea of improvements that local buyers are after, while also giving you an idea of where you need to begin renovations.
Additional Improvements
While these are the most popular home improvements that people can make to increase the value of their homes, there are some additional updates to consider as well.
Your HVAC system is another thing that you should consider taking a second look at, especially if it hasn't been maintenance recently. While most HVAC systems will anywhere from 15 to 20 years, without frequent filter replacements or maintenance they can begin to wear out before their time. Updating or maintaining your HVAC system is a great way to improve indoor air quality and ensure that you're not at risk for it going out on a 90-degree day.
Going hand-in-hand with your HVAC system is your windows. While you may wish to replace your existing windows for aesthetic reasons, old windows can also contribute to energy loss. If you're losing too much energy from your windows you could be at risk for higher electric bills and running down your HVAC system. Vinyl frame windows are a good investment to help combat this as they are both affordable and energy-efficient.
Re-painting the rooms in your house can also help boost appeal and value by giving the room an updated and cleaner appearance. This is a good idea even if you're not going to be completely renovating a space. If you're handy you could even tackle this job yourself; however, you'll want to take your time and make sure you use the right supplies so that the final result looks professional.
Another way to add additional value to your home is to finish your basement space if you have one. While not every home will have a basement, if you do, it's worth considering fixing it up. The increase in usable living space is a guaranteed way to increase your home's value and appeal. An open concept basement that can easily be converted into many different things is highly appealing to modern buyers. For example, if the basement could be used as an extra bedroom or office you'll be looking at higher market interest.
If you don't have a basement to add extra space, you may even consider adding an addition, especially if it's something you need and want while living in your home. Adding additional square footage will always have a huge impact on a home's value and its something that can boost appeal. That said, getting everything for undergoing a renovation of this size can be tricky. It's worth speaking to a local law firm just to ensure that you get all the right permits before the work begins. Many attorneys can walk you through the necessary legal requirements allowing you to have your addition built with the least amount of hassle.
Another good way to add extra living space is by renovating an outdoor building into an additional office or bedroom. For instance, if you currently have a storage shed on your property, it's worth looking into converting it into another living space, especially if you're not using it for its current purpose. Having a guest house on your property can help boost value while also being a good place for the in-laws when they come to visit. If a guest house isn't feasible, you may consider updating the space into an outdoor workshop area instead. This will have far fewer requirements while also giving hobbyists a place to work that's not in the house. Even a simple updated garden shed can have a good return if done correctly.
Getting the Most From Your Property
While there are many ways to increase the value of your home, these are the most popular trends in today's market. In many cases the improvements you need to make are smaller than you may think; however, nothing is stopping you from going all out if it's something you'll enjoy while living in your home. Although it's good to think ahead to the future, you should also consider how the renovations will work for you now. For instance, while an extra bedroom will give a good return, if you know it will just be a glorified storage room for you now, it may be best to consider other options. Similarly, if you're thinking of landscaping updates, consider the level of care the plants you're thinking of will need. If you know that you're not going to be able to dedicate the time to taking care of a large garden space, it's worth asking your landscaping company about low maintenance options. Many alternative options can help give you an aesthetically pleasing outdoor space without the need for hours of labor on the weekends.
When it comes to adding value to your home, consider the options and talk with professionals about what would be best for both you and your neighborhood. A local real estate agent can help shed more light on popular improvements in your area, while interior designers can help you identify the most valuable areas to update in your home. Ultimately, updating your home should be an endeavor that is both beneficial now and in the future. Be sure to take your time and strategically plot out the renovations that will be both financially sound and enjoyable for your family.