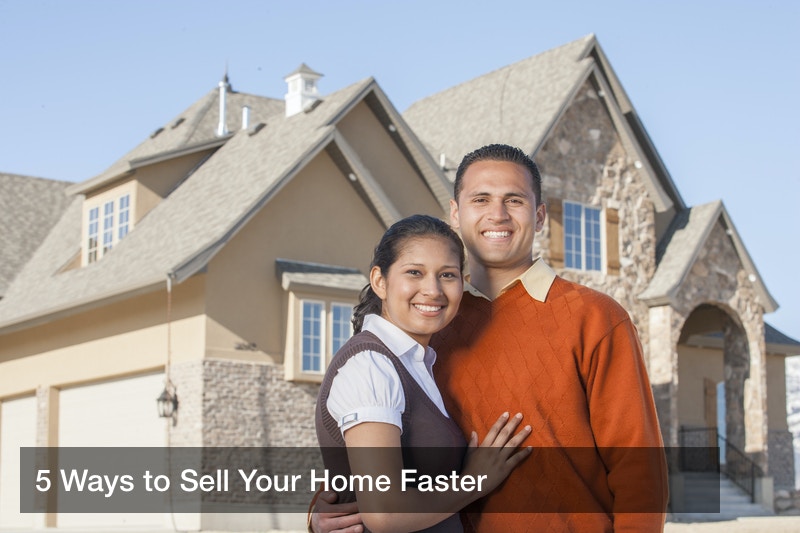 There is always a certain degree of challenge that comes with putting a home on the market. Selling your house isn't as simple as deciding that it's time to sell, connecting with a real estate agent, and finding a buyer.
You need to ensure first that there is nothing prohibiting you from selling your house, like a lien against your property or major damages. Then you need to assess whether you want to work with a real estate agent in the first place or instead move forward with selling your home on your own. If you do decide to work with an agent, however, one of the first questions that they may ask you is whether or not you're in a hurry to sell your home.
Nobody wants to sell a home slowly, but there may be different factors pushing you to sell a house fast that aren't considerations for everyone working with the real estate market. For example, you may find that you simply can't keep up with your home anymore. Rather than facing the mounting costs of maintaining mortgage payments, renovations, and monthly bills, you may wish to wash your hands of the house and move on. A lot of people need to sell a house quickly due to personal issues like a divorce, as well. Divorcing couples often have both personal and financial motivations that make them prioritize selling a home sooner rather than later. At times, you may be looking up the best way to sell a home fast simply because you'd like to invest the profit you would make from the home you currently own into your next house or into a business venture.
Either way, it can sometimes be more difficult than you might think to sell a home in a timely manner. There could be multiple obstacles standing in the way of your home selling hastily. Fortunately, while some — like a home's location — can be a bit more difficult to deal with, many are issues that you can tackle head-on. With that in mind, let's explore the best way to sell a home fast. Keep in mind that there are many different approaches to take, some of which will suit your particular situation better than others.
1. Work with an Agent Who Can Access an MLS System
Firstly, you should keep in mind that working with a real estate agent is ultimately to your benefit. However, you should keep several different factors in mind when evaluating real estate agents. For one thing, you want your own home to be a high priority for them. If you're working with a real estate agent who simply isn't moving the home quickly enough, you may want to look into switching with another agent. Some realtors are simply more motivated than others and you don't want to work with someone who treats real estate as a part-time hobby when trying to find the best way to sell a home fast.
Secondly, you may want to work with a real estate agent that has access to an MLS system. An MLS system is a multiple listing service. Essentially, this service offers a platform through which multiple real estate brokers establish contractual offers of compensation and cooperation. This means that they can essentially work together to have homes sold quickly. A home with an MLS listing is accessible to not only your main broker but other brokers that they work with, as well. Therefore, there are potentially more buyers that will be able to see your home. The more buyers can see your home, the more quickly that home will sell.
2. Have Your Home Professionally Staged
Sometimes, one of the biggest roadblocks to selling a home is what it looks like within. We're not talking about the home's actual interior, but rather how the furniture within the home is staged.
Yes, you read that right. You may be planning on taking your furniture with you when you leave, but the way it is staged can affect how quickly your house sells. A lot of people project themselves onto the appearance of a home, which means that they like understanding what a home will look like after they've moved in. The best way that you can do this is by simply staging the home.
But what you already have within your house may not be the best indicator of its potential. For example, if you don't have a lot of home lighting already, the house may come off as dimly lit and less appealing. You don't want to miss out on the opportunity to make your home look great through staging; even if it's not the best way to sell a home fast, it's certainly among the top few.
In that case, it's not a bad idea to invest in some extra items that will make your home look its very best. This doesn't mean that you need to spend a lot of money. You could browse your local home decor store for fine art for sale and find quite the bargain. For that matter, secondhand or even rented furniture is readily available. When working with a professional home stager, with whom your real estate agent may have a connection, you may be able to find different means through which you can source the items you need. Home staging would also cover adding a fresh coat of paint to your house or including plants to make it seem more lived in and homey. Even if this wouldn't necessarily sway you as a buyer, you should listen to the experts and determine whether or not it would be a good tactic for you to consider as a seller.
3. Work On Your Landscape
Something that is considered by some to be the best way to sell a home fast is updating the property's landscaping. A home's landscape matters in more ways than one. Consider what people will see first when shopping for a house. Whether they're looking at a home casually as they drive through a neighborhood or looking online, people notice a home's exterior before they know anything about its interior. A lot of people will not even look up a listing to know what's within a home if they're turned off of the exterior. And an important part of the exterior is a home's landscape.
Think about how poorly an overgrown lawn may reflect on house or how a cracked and pitted driveway could make it difficult for a home to appeal to drivers. Would you buy a home with a landscape that was that poor? Often, this kind of landscape can reflect an interior that has been similarly neglected. Even before a home inspection is ever performed, a potential buyer might be scared off by subpar landscaping.
This is why it's important to invest in your landscape on an aesthetic level. If you're unable to grow a proper lawn or garden due to the area in which you live, there are still options available. A "Florida lawn" is the popular term for an area in which the grass is too dry and needs to be covered with other materials. In a lot of cases, this other material will be mulch, often made of a redder wood like cedar. But you could also use decorative gravel on your lawn, or for that matter, you could also use this material for your driveway or a walking path. When considering the best way to sell a home fast, you should keep in mind that you do have options when traditional gardening and landscaping fails.
But still, if you can at all, you should consider having your natural landscape receive a minor overhaul before your house is put on the market. You don't have to wait for seeds to grow into fully grown plants. Simple flower deliveries can be made; once these fully grown flowers are transplanted onto your landscape, they can fill out a garden and create a much more fertile appearance. If you have an existing vegetable garden, as well, this in itself can add a great deal of value to a home. People love gardening, no matter what they're tending to. In fact, roughly eight out of 10 American households report participating in gardening activities, whether they're indoors or outdoors. No matter what decisions you're making when altering your home, think long about how they could affect the appeal of the property.
4. Hire A Cleaning Crew
This is an additional consideration to make and it's an issue separate from staging your home. The best way to sell a home fast is to make sure that your home is as clean as possible. People don't want to think about the cleaning that they'll have to have to do once they buy a home. And though they'll inevitably still need to clean the interior for their own peace of mind after moving in, you should still make sure that your home is well-cleaned (ideally, professionally cleaned) before it is viewed. But you also need to ensure that the surrounding area is as clean as possible.
Now, you can't account for what your neighbors are doing. However, you may want to work on having your general neighborhood cleaned up as much as possible, at least within the vicinity of your home. Any trash lying around can cause people to make assumptions about your home or may be less likely to buy. In the same sense, you may want to invest in a good power washing session for your home. This will brighten up and clean the exterior. It might be a good idea for you to follow that up with a new coat of exterior paint. Generally, you want people to have a good impression — not only of your home but of your neighborhood and the general area in which they'll be living. A neat and clean interior followed by a neat and clean exterior might help ease any worries the people have.
5. Create a More Neutral Home
The last thing you want is for people to view a home and feel as if it would be more work than it's worth. This doesn't just have to do with the repairs a home may need, as well as the exterior and landscape. It also has to do with the general appearance of your home's interior designs. If a house is covered with garish gold fixtures or bright paint colors, a potential buyer may be distracted. Appearance matters, and if they cannot project their own tastes onto your home, they may be less inclined to buy. This is why a lot of real estate agents advise that the best way to sell a home fast is to make that home as neutral as possible.
You may not love a neutral home. But when considering the best way to sell a home fast, you shouldn't focus on what you love. Rather, you should prioritize what buyers love. The majority of people tend to prefer a more neutral home. Therefore, if you have loud fixtures, you may want to replace them with fixtures that are less offensive, perhaps in a streamlined design with neutral tones like silver. A bright coat of paint should be covered by a shade of white, cream, or beige. For most homes, this will largely apply to the interior of a home. But in some cases, you may actually need to put a new coat of paint onto the home's exterior, as well.
Selling a property is challenging, and it only becomes more challenging when your priority is to sell it as quickly as possible. When trying to discover the best way to sell a home fast, you should consider exactly what could be an impediment to your home's appeal. It's important for you to ask real estate agents and other experts about what could further impede your home's ability to sell. You need to have an outsider's perspective, rather than merely your own.
Of course, you need to be ready to make the decisions that will enable your home to sell faster. This may require investing in repairs and renovations; but in the long term, you'll see a return on that investment and a faster sale.