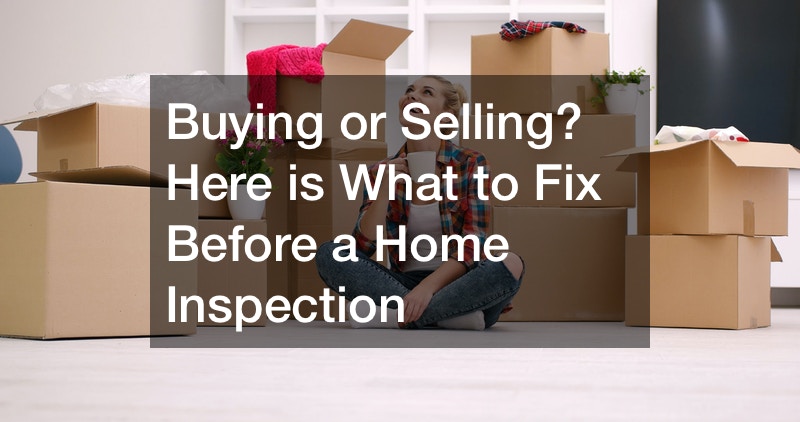 Are you planning to sell your home? Well, before you do so, it makes sense to ensure that your home is in perfect condition. This will not only help you sell faster, but it will also enable you to get a better price. Preparation is crucial when you want to sell your home. After all, the buyer is most likely going to order a home inspection before they part with their money. So, if you want the sale process to go smoothly, you need to set some time aside to make sure your home is ready.
You can reduce buyer repair requests by taking care of all the home repairs that are pending. These repairs can include electrical issues, plumbing leaks, exterior wood rot, HVAC maintenance, the roof, and gutter repairs. You must also check to see whether your fire alarms and smoke detectors are working as they should.
To make sure these repairs are taken care of, you must get a number of professionals to come to inspect and carry out the repair work. This means you will sort out all the problems ahead of time, and there will be no surprises for either you or the buyer when you finally have a home inspection. This way, you will impress both the inspector and the buyer. Read on to find out what to fix before a home inspection.
Consult With Professionals
To make sure your home is ready for an inspection, there are several professionals that you need to work with. Before you begin the repairs, you can hire a home renovation service to inspect your home and point out areas that need fixing. Below are some professionals you will need to work with to figure out what to fix before a home inspection:
Roofing Contractor
You need to make sure your roof is in perfect shape before you put your home on the market. This also means that when you are buying a home, you must make sure that there are no issues with the roof. A faulty roof can be a deal killer if you want to sell a home. The roof is quite an expensive component of the home; therefore, it's better to take care of everything and recover your money from the boost in value. A full roof replacement will sometimes cost more than a hundred thousand dollars. If you are fortunate enough, and the roof is not too old, you can get away with a couple of repairs.
To ensure that your roof is in great condition, you should hire a roofer to help you identify what to fix before a home inspection. They should fix things like the gutters, shingles, chimneys, insulation, and any other problematic areas.
Electrician Company
Your home's electrical system must also be maintained. It's crucial to hire an electrician who can inspect and figure out what to fix before a home inspection. They will carry out any repair and maintenance work safely. The electrician company should check and ensure that the fuse box is labeled correctly. They should also fix any exposed wires and repair damaged sockets. An electrician can also help you replace bulbs that don't work. You should choose more energy-efficient replacements like LED bulbs. If there are any missing outlets and switch plates, they should be fixed too.
Hire a Plumber
Your home's plumbing is one of the most important systems. Because of this, inspectors usually spend a lot of time inspecting the plumbing. If you know you have some substandard plumbing in your house, you must hire a plumber to investigate and find out what to fix before a home inspection.
You can work with a simple plumbing checklist to ensure that everything is up to standard. Make sure the plumber checks the water pressure and unclogs slow drains. They must also repair blocked and constantly running toilets. Lastly, the plumber should check if there are any water leaks and inspect your septic tank.
Budgeting for Updates
Updating your home before you sell it can seem daunting. Many updates and upgrades need to be carried out, and you need to figure out what to fix before a home inspection and budget for the most important repairs or, rather, the ones that have the highest return on investment. It's important to put some money into a few repairs and upgrades to make your home more appealing. This can translate into more value and better selling prices. This is why more than 25% of people selling their homes first make a few improvements before they put them on the market.
One of the lowest cost improvements you can make is painting. This is why more than a third of all home sellers paint before they sell. A simple paint job can give your home a much-needed facelift. However, because you don't know who is going to buy and what their preferences are, it's always better to use a neutral color. Some of the safer colors include gray and white.
You must also consider updating your windows, especially if they are old. Older windows can discourage potential buyers. Most people nowadays are looking to move into energy-efficient homes, which is a good reason to get new windows. There are a lot of energy-efficient options on the market. All you need is to do proper research and choose the type that suits your budget. Windows are also a great way to improve the aesthetics of your home.
You must never try to sell a home that has inoperable windows or broken glass and broken latches. It's also crucial to replace all drafty windows with new ones and replace all broken latches and glass. While you are at it, check out newer UV blocking window options.
If you haven't already, you should budget for a roof replacement. This is advisable if you have an old roof. There are better and more energy-efficient roofs on the market nowadays. You can also look into wind vented roof installation. Unlike traditional roof systems, instead of relying on fasteners, adhesives, or ballast, wind vented roof systems rely on the negative pressure of the wind for security. As the wind blows harder on your roof, it also tightens and holds the roof down.
Heating and Air
Your home's HVAC system does an important job of cleaning and filtering the air you breathe. It also maintains comfortable temperatures in the home. Apart from that, you also need a functional heating and cooling system to prevent condensation and water damage to your home. This is why you must ensure that you carry out a heating repair before you put your home on the market.
It's advisable to hire an HVAC maintenance company to come and inspect your heating system to identify what to fix before a home inspection. They will check and replace your air filters and repair the broken components as well. This should be done for every room in the home. They must also make sure the HVAC is not making too much noise or producing foul odors.
Apart from HVAC, you must also ensure that you hire a professional to carry out water heater repairs. Heated water is a luxury that no home buyer will want to miss. To ensure that hot water is flowing in your home, you must hire a water heater repair service. They will check for any problems and carry out all the necessary repairs.
Water heater repair professionals will check your temperature and pressure valve to ensure they are functioning as expected. These protect the water heater from extreme pressure and temperature by discharging water. Making sure your water heater is inspected and serviced ensures that the system functions efficiently. There are a variety of things that can reduce the efficiency of your water heater. For instance, there could be a build-up of calcium. This mineral collects at the bottom of the water heater, and it reduces the amount of water available to heat. Calcium can also lead to hot spots, and these can result in tank damage and failure. It can also result in the failure of the lower heating element.
Remodeling Options
When buyers look at a home for sale, they will take a closer look at rooms like the bathroom and kitchen. It's a good idea to remodel these rooms if you want to fetch a higher price for your home. Some people even prefer having several bathrooms. For instance, someone might want a master bathroom, a family bathroom, and a half bathroom to cater to their guests. However, adding a bathroom might be costly, so you can just hire a bathroom remodeling company to improve the ones you already have.
Doing a complete kitchen remodel can be quite expensive. However, there are several things you can do to just freshen up your existing kitchen. For instance, you can hire a cabinet company to replace or fix your kitchen cabinets. You can also give the room a facelift with a fresh coat of paint. This is an inexpensive way of changing the look of one of the most important rooms in your home. Another great way to improve the condition of your kitchen would be to replace the floor. A scratched or torn floor can make your kitchen look old and neglected.
Check Your Yard
Your yard is the first thing that people see when they get to your home. Therefore, as far as first impressions are concerned, your yard is your biggest chance to impress buyers. Buyers can quickly get turned off by a patchy or overgrown yard. You should also remove everything dead, including trees. However, when dealing with dead trees, it would be advisable to hire a professional tree removal service.
You must ensure that your lawn is refreshed and green. If the existing lawn is too patchy, it would be a good idea to plant new grass seeds. You must also edge the lawn so that your outdoor spaces can be clearly defined. If there are any beds, ensure that you add mulch. This will make your home look more finished and inviting.
Professional landscaping can be quite expensive at times. However, a professional landscaper will help you identify what to fix before a home inspection. Fortunately, if you can't afford one, there are some tasks that you can do on your own. For instance, you can learn how to apply mulch or just clear your yard and remove dead leaves. Just roll up your sleeves, and you can do a lot in one weekend. You also don't need an expensive landscaper to buy grass seeds. Just make sure you follow the directions and keep the grass well-watered.
To bring some color to your yard, there are several bright annual flowers you can get from your local garden shop. You can either plant them straight into the soil or get a few pots to distribute around the yard. Flower pots are a great addition to your entrance.
For Last-Minute Incidents
If you are selling your home, and you are still living there, apart from figuring out what to fix before a home inspection, you must also take care of the insurance needed and protect your property from last-minute incidents. If you are occupying the house, your current homeowners insurance policy should be enough. However, if you are planning to vacate the home and sell it empty, it would be advisable to get special vacant home insurance. This type of insurance will cover certain things that are not covered by your regular homeowners' insurance policy. For instance, it addresses things like vandalism, arson, fires, and theft. This policy can be added to your existing policy, or you can get it separately.
You should consider vacant home insurance if you know you won't be staying in your property for more than a month. However, in some states, a property can only be considered vacant if it has been empty for at least 60 days.
These are some of the things you must fix before you put your home on the market. Remember that anyone who wishes to buy a home will get an inspection done first, so they have an idea of what they are paying for. So before all that, you have to identify what to fix before a home inspection. Not doing the necessary fixes and repairs will not only bring your price down but can also chase away potential buyers. Apart from that, it will also delay the selling process should you find someone interested in the home. There will be a lot of back and forth with the buyer requesting that you sort out certain things before they can make a payment.