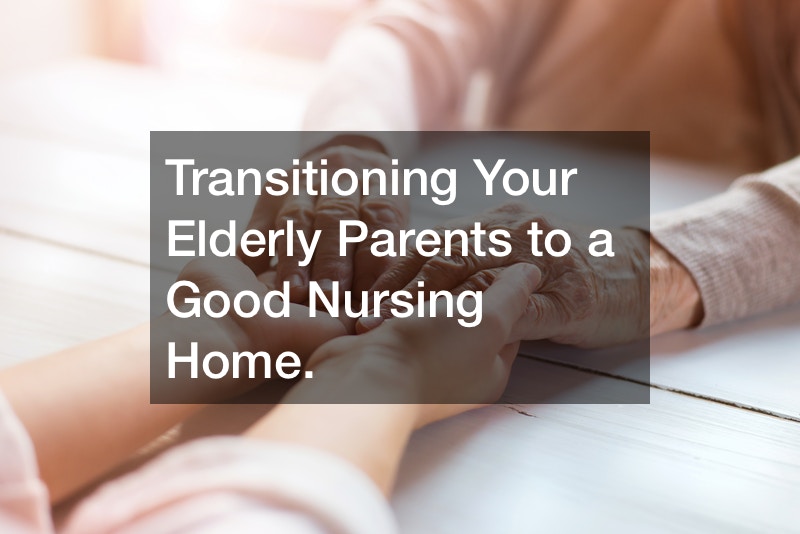 Dealing with an aging parent can mean deciding the right time to move them from their current living situation to one with more help and support. A nursing home can be the right fit for parents who are growing older and need more help than you can provide on a daily basis. Today's nursing homes can be luxurious, with amenities and features that make life enjoyable for aging seniors. Knowing that your parent is in this kind of facility with round-the-clock care can give you peace of mind while you are at work or taking care of other things.
Once you've found the right nursing home to move your elderly parent into, it's time to plan the actual process of getting them moved in. This can seem intimidating if your parents are still living in the home you grew up in along with decades worth of time, but with some planning and foresight, you can help them get organized and have a smooth moving process. Planning a moving day for your parents can help you be successful in getting them set up at the nursing home and make the day much easier for them to get through. Here are some things to keep in mind as you prepare for the moving day:
Be Realistic About Time
While you may be able to move yourself or your family from one location to another easily, that doesn't mean things will be the same when you move your parents to the nursing home. Moving your parents out of a home they've been in for decades can take more time than you first expect, especially in the weeks and months leading up to the move. Most assisted living facilities have limited space in the resident rooms, meaning your parents will have to reduce the amount of stuff they have by a great deal if they are currently living in a standard-size home. They may want to take time sorting through the items and decide who to give sentimental items to while also donating some of their items to charity. This is a part of the process of them getting mentally ready to move, and it's better if you don't rush through it, but allow them to go at their own pace. You can hire a team of local movers to help with packing if needed, as many of them offer this service in addition to moving.
Even on the moving day, it may take longer than you realize to get things loaded and moved. If you aren't hiring professional movers, it's likely that you'll have to spend some time organizing and managing the people who have volunteered to help. Try to focus on loading and unloading the vital furniture items your parents might need to use first so they can spend the first night at the home in their own bed or relax after the move on their own sofa. You may want to look into affordable moving services to take care of these larger furniture items while you and your volunteers move smaller items like boxes and countertop appliances. This saves your family members from straining themselves and getting hurt trying to lift large, heavy items. Movers are also more experienced in moving furniture through hallways and doorways and are less likely to do damage to walls and floors than inexperienced volunteers.
Remember that this process can be emotional and tiring for a senior citizen, so it's best to start early and finish before nighttime. Have snacks on hand to feed them at crucial times and plenty of water, so they can stay hydrated. If you have to move them during extreme weather, have a backup plan to keep your senior citizen from being outside too long and being impacted by the effects of the weather. Plan to have most of the moving crew finish in the early evening and have just friends or family members finish up. This allows the senior time to get settled and calm down after the excitement of the day without strangers moving in and out of the space.
Prepare Yourself and Them Mentally
Large assisted living facilities with multiple wings can be hard to navigate, especially for an older person who has just moved in and hasn't had much time to adjust yet. Take some time to go over the layout of the new place and help identify the places they are likely to spend their free time. If your parents will have to go to a dining area for meals and a recreation area to do activities, help them get oriented and understand where to go. Once they are moved in, practice walking them to these areas a few times, because this may be easier for them to remember than trying to follow the route you showed them on a map.
You should also help your parents mentally prepare for the changes ahead once they are moved into the nursing home. This represents a new time in their life and a transition they have to make, just as you might have to get used to moving to a new home in a new neighborhood. If they've always been responsible for keeping the home clean, taking care of children, and cooking meals, taking these tasks away and having the nursing home do them can be confusing for your parents. Older people can easily get depressed without enough to do in a new environment, so finding new ways to pass the time is important. Many nursing homes have activities and hobbies that your parents can pursue to stay busy and make friends with the other residents. In addition to encouraging them to participate in these group activities, it can be helpful to create a schedule for family members to visit often over the weeks following the move. These visits help your senior citizen understand they are still a vital part of the family and they haven't been forgotten now that they've moved to the nursing home. This is a top concern for senior citizens who are moving to an assisted care facility, so taking extra care to show them they aren't forgotten can go a long way for their mental health. Some nursing home facilities will allow family members to come in for meals or activities, so you can help your senior get comfortable with the new environment and talk to new people.
Make The First Few Days Easier
The transitional period after your parents move in can be tough for them, so set them up for success by making those first days easier on them. Eliminate potential confusion and panicked phone calls by making things they'll need easy to find and organize. Pack an overnight bag or suitcase containing some clothes and undergarments, toiletries, medications, and anything else your parents will need in the first few days in the new home. This will help them get by until all of their possessions are unpacked, and they can find everything in its new place. If you have friends and family who are willing to help, you can have them come by and visit or help unpack boxes in the first few days. This helps your parents feel like progress is being made on unpacking and getting the place set up. These regular visits also serve as a connection to family and friends, helping your parents feel they aren't forgotten.
In addition to this, label a box clearly as the first one to be opened and put items that you know they'll need within the first couple of days. This could include the kettle or coffee maker and supplies to make the hot drinks they like, a toaster or toaster oven to make snacks and small meals, towels, slippers, and a blanket. Having these items handy will help them feel at home and do small tasks that they'll find comforting in the new place.
Plan For After the Move
Just because your parents are moved out doesn't mean their old home is ready to rent out or sell. There may still be possessions left behind to organize and get rid of and the home may need a deep cleaning to help you get top dollar for it when you put it on the market. Prioritize doing these things after the home is empty to ensure that the home sits there with no one in it for longer than it should. Moving quickly to get the home occupied helps offset any expenses you may have to pay on the property, like the mortgage or property taxes. If your parents want to designate a family member to move into the home, it might be best to put this in writing, so there is no dispute in the future between family members about who gets the home.
If you were unable to dispose of all the things you have leftover in your parent's home after moving day, calling junk removal services may be well worth it. They will get rid of the excess stuff for you, making it much easier to get the home ready to list. These cleanout companies have the supplies and know-how to clean the place out quickly, without getting sentimental about the process like you might if you do it yourself. Having someone with no attachment to the possessions do the clean-out work can make the whole process easier and faster. They can complete the cleanout by the deadline you give them, allowing you to move the process along.
If you are planning to sell or rent out the home, you may need to have house cleaning services come in and do a deep cleaning. The cleaning will not only leave the major areas of the home looking better, but they will also cover small details you may not notice that will make a big difference to the new resident, like scrubbing baseboards, shampooing carpets, cleaning the air vents, and dusting high shelves. A local painting service can also make a big difference by brightening up the inside rooms or the exterior of the home. A small expense like new paint can increase the curb appeal of the home, leading more people to come in and take a look when you hold an open house.
Discuss Long Term Plans
Once this moving process is done and your parents are settled and comfortable in their new place, you can establish plans for the future with them. While no one enjoys having these talks, settling these matters now helps you in the future and gives your parents peace of mind that they will get what they want. You can talk about preferences for end-of-life care, including whether they already have a living will with medical directives and a last will and testament. Establish what kind of funeral service they'd like to have and prepare the appropriate plans with your local funeral home. Your parents could also look into other services, such as cremation services. Planning these things ahead of time saves you from having to make financial, long-term decisions when you are going through an emotionally difficult time in your life. The best estate planning attorneys can help you establish a will for your parents if they do not have one already, with their assets allocated to go where they deem appropriate after passing away. Having these legal matters down on paper eliminates any dispute in the family about how to handle your parent's last wishes.
Moving your parents into a nursing home can be an emotional process, but in the end, your senior citizen can flourish and enjoy a better quality of life once they are settled in a facility that meets their needs.