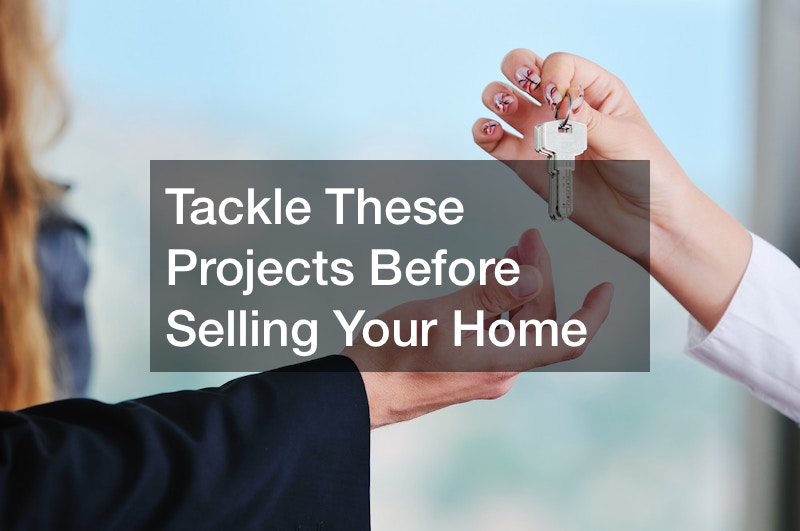 Anytime you are thinking of selling your home, the process itself may feel daunting or even overwhelming. However, breaking down the steps necessary to make your move as smooth as possible can make the process of transitioning to a new home positive and optimistic. Selling your home, when done correctly, can provide you with new and exciting possibilities for the future. Whenever you are selling your home, there are a few projects to take on and tackle beforehand to ensure you are ready to move once the big day arrives.
When you are thinking of selling your home or if you are already in the process of doing so, it's best to contact a professional estate planning attorney. If you own more than one home or if you are interested in generating a profit from your house sale, an estate planning attorney can provide valuable insight and advice. A professional estate planning attorney can also walk you through the individual steps necessary to take in order to achieve your financial goals as well as any goals you have for future property investments.
If you are thinking of hiring an estate planning attorney, keep the following in mind to find the right fit:
Level of experience: How important is the level of experience an attorney has to you? Do you have a large estate you are planning for, or are you only in need of assistance with managing one to two properties?
Past cases: If you want to get to know more about the experience an attorney has, inquire about past cases and clients they have taken on.
Your personal investment goals: When choosing the right attorney to represent you, it's important to consider your current financial goals as well as your real estate plans for the near future. This will help you to find legal representation that is well-suited to the path you are on.
Consider Future Investment and Purchase Options
While you are working with your estate planning attorney, it's also important to consider future investment options. Whether you plan to take out a home loan for your future investments or if you are selling an existing property, consider all of your purchasing options and make a plan for the real estate you have in mind for the future. Knowing where you intend to go next can help you feel more comfortable with showing your property and selling your home altogether.
Update Electricity Throughout the Home
Before you begin selling your home on the open market, conduct a professional electrician inspection by working with a local company or contractor. Having all of the electricity in your home inspected will help ensure that your home is in proper selling condition. Update any outdated electrical work throughout the home to increase your property's appeal to potential buyers. It is also highly advisable to consider eco-friendly options when installing new lighting and other electrical devices throughout the home. This will appeal to those who are seeking energy-efficient homes and solutions on the market. In addition to appealing to potential buyers, updating the electrical work throughout your home will also provide the following benefits:
Reduced power surges: With updated electrical work, reduce or eliminate power surges in your home altogether. This can also reduce the risk of damage or loss of power to various electronics and appliances you are using in the home.
Increased power output: If you are updating outdated electrical work or electrical work that was completed decades ago, you will have the ability to take advantage of increased power output. Modern electrical solutions provide increased power output without requiring as much energy, resulting in a much more eco-friendly solution that is appealing to buyers today.
Lowered electricity bills: One of the most attractive aspects of investing in electrical updates and repairs around the home is the possibility of reducing your monthly electrical bills. By investing in updated and modern electrical solutions and energy-efficient services, you can drastically reduce your energy usage and, ultimately, your monthly electrical bills.
Increase energy efficiency: Increase the energy efficiency in your home with modernized and updated electrical work. You can also invest in energy-efficient devices, such as programmable thermostats, to keep a better eye on your energy usage throughout the home at all times.
Increase electrical fire protection: Keeping your home safe and protected from a potential fire is one of the most important duties you assume as a homeowner. If you want to minimize the risk of a fire in your home, you can do so by updating all of the electrical work throughout your home. Conducting a thorough electrical inspection and updating your electrical work with modern solutions will minimize the risk of experiencing a fire due to poor electrical connections or outdated electrical work.
Repair Asphalt and Surrounding Pavement
Another project to consider taking on before selling your home includes asphalt repairs and updating any surrounding pavement you have on your lot. Repairing your property's asphalt and surrounding pavement is not only a way to increase your home's value, but it will also increase your home's overall curbside appeal. Curbside appeal matters when selling a home, especially in a buyer's market. If you want your home to stand out from the rest, spend time updating the sidewalks, pavements, and driveways that surround your home and property.
Conduct a Complete Inspection
When selling a home or a commercial property, a complete inspection is not required, but it is recommended if you're interested in making updates before placing it on the market. Working with a property surveyor can also help you to determine the exact lot size you have to sell while also providing you with an assessment of the value of your home. Although most inspections are conducted by prospective buyers, they can be requested at any time, even by homeowners themselves.
If you have a mold issue in your home and want to place it for sale on the market, you will need to seek out mold remediation services first. Working with a local mold inspection company is essential, regardless of the type of mold you encounter in your home. Eliminating mold spores and the growth potential of mold in any property is essential before listing it for sale. If a prospective buyer of your home notices mold while they are taking a tour, they are not likely to move forward with placing an offer, even if the rest of the home is ideal for them. Some of the risks of allowing mold to grow and spread in your home include:
Allergies: Mold can trigger a variety of allergies as well as mold-induced asthma in individuals.
Respiratory infections: Mold spores also have the ability to cause respiratory attacks and infections, especially in those with weakened immune systems.
Headaches and dizziness: Black mold may cause individuals to experience weakness, dizziness, and headaches after prolonged exposure.
Wheezing and shortness of breath: Shortness of breath and increased wheezing are not uncommon with prolonged exposure to mold and mold spores.
Update and Repair Plumbing
Before selling your home, it's vital to tend to the plumbing throughout your home. Updating and repairing the plumbing throughout your home will help to increase the value and appeal of your home once you begin showing your home to prospective buyers. If you are unsure about repairing your toilets, tubs, and sinks yourself, turn to professional toilet repair services in your local area. The advantages of hiring professional plumbers that offer toilet repair services include:
Updated licensing and certification: Working with a reputable local plumber that provides toilet repairs is a way to ensure proper licensing and certification. If you choose to hire a contractor that does not have proper licensing and certification as a plumber, you are liable for any losses, damages, or even injuries that occur while the contractor is working on your property.
Insurance: Hiring a professional plumbing repair company is also essential if you want to ensure that they are fully insured. Whether you employ an individual contractor or a large company to work on your property and inside of your home, insurance is imperative. Without valid insurance, the homeowner becomes liable for any injuries or accidents that result from work being conducted in the home or around the property.
Reduced risk: Attempting to repair the plumbing throughout your house before selling your home may be tempting, but it is also much riskier. If you are not a certified plumber and you are unfamiliar with specialized tools and equipment necessary to repair your plumbing, it's best to leave the job to the pros.
Cost savings: While some may believe it's more affordable to repair the plumbing work in their home independently, this is not always the case. In fact, most often, it's more affordable to hire professionals to get the job done right. Professional plumbers are well-equipped to repair toilets, tubs, sinks, and drains and already own the tools required for efficiency.
Save time: When working with professional plumbing contractors or companies, you will also save time. While the pros are working to repair toilets and the plumbing in your home, you can focus on other aspects of selling your home to make the process go as smoothly and pleasantly as possible.
Have Your Roof Inspected
When you are in the process of selling your home, it's important to have your roof inspected. Contact local roofing services to conduct a complete roof inspection on your property to ensure it is not in need of any repairs or updates. Updating and repairing your roof before placing it on the market can significantly increase your chances of a sale. Roofs are extremely important when purchasing a home. If a roof appears to have missing shingles or has missing or damaged flashing, buyers are less likely to see your home as a viable option.
Improve the Landscaping Around Your Home
If you want to increase your home's value and boost its curbside appeal simultaneously, you can do so by spending time improving the landscaping around your home. Landscaping plays a significant role in the curbside appeal of any home or commercial property, regardless of its size and location. Investing in the landscaping around your home can help to bring it to life while also highlighting some of the most attractive features of your entire property. A few ways to improve the landscaping around your home include:
Plant new trees and shrubs: Planting new trees and shrubs can help transform your property's overall appearance while adding lush greenery to its surroundings.
Create a flower garden: Using flowers is another way to add color to any property, even if your siding is a neutral color. Flower gardens can also help create focal points for areas in your yard, such as where a fountain or a decorative shrub is located.
Install a sprinkler system: Implementing an underground sprinkler system will make your home much more appealing to those who are shopping around on the market. Contact a sprinkler system installation service provider to learn more about your options and the systems that are ideal for your type of home. Sprinkler systems are extremely convenient for larger lots as well as in areas that are more prone to dry climates and droughts.
Invest in outdoor fencing: Outdoor fencing is another way to create a new atmosphere outdoors while also boosting your home's curbside appeal. Exterior fences can be installed surrounding the perimeter of your property or certain areas, such as gardens and backyard entertainment spaces.
Work With the Right Moving Company
When you are in the process of selling your home, working with the right local moving company can make all of the difference. The right moving company will help provide the guidance necessary for you to ensure safe and secure transportation of your furniture and personal belongings. Hiring a local moving company once you receive
Selling your home does not have to feel daunting and unapproachable, especially once you are familiar with the process. By taking on a few projects before placing your home on the market, increase your chances of receiving an offer from prospective buyers. The more appealing your home is once it hits the market, the easier it will become to receive your asking price from interested buyers as well.