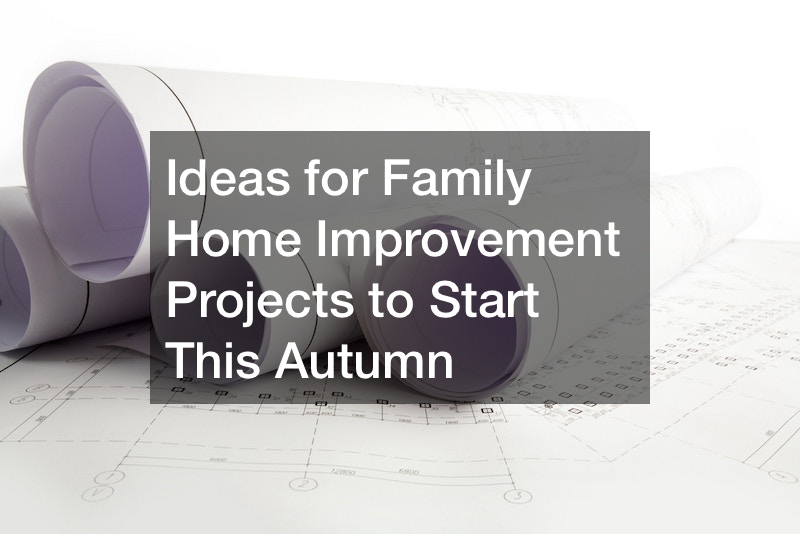 Investing time in family home improvement projects this autumn is not only a great way to spend time together bonding with your loved ones, but it's also the perfect opportunity to make changes, investments, and improvements to your home. With a home improvement project that involves the entire family, you can have a bit of fun while making personal changes anywhere around the house that you see fit. Whether you're interested in home maintenance projects or if you are interested in getting a bit creative, there are a few ideas for family home improvement projects to keep in mind that you can get started on this fall.
Looking Into New Energy Sources
When you first begin your journey of brainstorming family home improvement projects that you may get started on this fall, considering new energy sources is one area to consider. Whether you're interested in working with local home heating oil companies throughout the autumn and winter months or if you are thinking of investing in solar panels and a solar energy solution for your entire house, searching for new energy sources is a great project to take on with the whole family. Understanding different energy sources that are available near you and the energy providers in your current city or region can go a long way in helping you make the right decision for you and your entire household.
Advantages of Inspecting and Updating Energy Sources
Becoming familiar with your home's own energy source at the time can help you gain a better understanding of which solutions may be right for you in the near future. Taking the time to invest in new energy sources and alternative sources of energy, such as solar is a way for you to save on electricity and energy each month with reduced bills. Additionally, you will also reduce the overall energy consumption of the world by contributing solar energy in your own home.
Unclog Any Drains
If you want to get started on a family home improvement project this fall that includes home maintenance, you will not want to forget to tend to your plumbing by unclogging the drains in your home. Taking the time to clear and unclog your bathroom sink and shower drains can have a significant impact on the overall working condition of your plumbing year-round. Taking care of clogs and slow draining on a regular basis can also prevent the buildup of major issues and blockages, which can result in sewage backing up or even flooding throughout the home.
Hiring a Professional Plumber to Inspect Plumbing and Unclog Drains
If you have determined that there is a significant clog in the drain anywhere in your home and you are unsure of how to go about addressing it head-on yourself, you will want to take a bit of time to find a professional certified local plumber that you can trust. Working with a professional plumber near you is a way to do so without worrying about the potential risks, as professional companies and contractors are not only licensed, but they also carry active insurance as commercial service providers. When you choose to hire a reputable plumber, you can also learn more about the current setup of your plumbing and when you may need to consider a replacement, if at any, in the near future.
Paint Your Walls a New Color
If you're searching for a family home improvement this fall that you and all your family members can take part in, consider painting the walls in each room throughout the house a new color. Investing in paint is not only affordable, but it provides the opportunity to create brand-new spaces, whether you're interested in updating all the bedrooms in your home or if you want to create a brand-new living room or entertainment area. If you want to paint all the walls of your home a new color but do not have the time to do so on your own or if you are not as skilled with interior paint, you can work alongside a professional home painting company near you.
Advantages of Hiring a Professional Painting Company
Opting to hire a professional painting company that specializes in the painting of residential homes is highly recommended for anyone who is not familiar with the process of painting their own interior walls. Additionally, hiring professional residential painters is a way to ensure you are making the right decision when it comes to selecting a paint color, brand, and style (whether you are interested in matte, semi-gloss, or glossy looks). Because residential painters who work professionally are skilled and experienced, they are also familiar with setting and sticking to schedules, which can ensure the stick to any deadline or timeline you have in place for the painting project you have in mind.
Fix Any Hot Water Issues
Once you begin working on family home improvement projects around the home, you may want to tend to and fix any hot water issues you're experiencing. Hot water issues should be taken care of before the winter months arrive, as temperatures are much more likely to drop below freezing, which can cause cracks and other major issues in a broken hot water tank. If you are in need of a water heater repair service or in some cases, even a hot water heater replacement, you will want to turn to professionals to protect the water heater you have in place throughout the process soft any repair or installation.
How to Find a Hot Water Heater Expert
Finding a hot water heater expert or company may be possible by referencing traditional business listings and directories near you, depending on where you live and the type of water heater solution or repair service you need at the time. You can ask friends, family members, and even neighbors who live in the same city or community as you for their own input and recommendations. If you want to learn even more about water heater specialists and companies near you, it is also possible to do so by searching online for companies and contractors while reviewing testimonials and credentials beforehand.
Upgrade or Repair Your Windows
If you have broken windows that require broken window repair services or if you want to upgrade the windows throughout your home, you will want to work with a professional window expert or a local window replacement service that is available near you to ensure you are getting started in the right direction. Whether you want to upgrade and repair just one window or if you're in the market for more energy-efficient solutions, turning to the professionals will allow you to find the window solutions that are ideal for you, your home, and any budget you have set in place.
Advantages of Updating and Upgrading Your Home's Windows
Choosing to take the time to update and/or upgrade your home's windows during the fall in preparation for wintertime is a way to provide your home with an additional layer of insulation. Most all modern windows sold on the market today are increasingly energy-efficient, which will allow you to live a much more sustainable way of life. Not only will you be living sustainably, but your energy bills may drop significantly saving you on heat and electricity during the coldest months of the year.
Look Into Conserving Electricity
When you want to pursue more family home improvement activities and improvement projects, consider looking into conserving energy even more in the home. From simply shutting off electronics when they are not in used to limiting the amount of television or energy you are using during peak hours, there are a few ways to go about conserving energy for the sake of the world and your own electric bill each month. If you are curious about your current electrical system and the wiring in place in your home, you may want to work with local electricians for more valuable insight.
Contact Professionals for Roof Inspection or Repair
A major family home improvement project to consider during the autumn months and before the winter arrives is any roof repairs or inspections you may need. As a homeowner or even if you are a property investor in residential homes, you will need to maintain the roof of any structure you own over a period of time. The roof is one of the most important elements of any structure or residence, which is why it is imperative to contact the right roof contracting services or roofing companies whenever you are in need of an inspection, repair, or if you are in the market for a brand-new roof altogether.
Benefits of Contacting Roofing Professionals for Repairs, Replacements, and Installations of Roofs
When it comes time to invest in your roof, it may cost you thousands of dollars, depending on the type of repair or replacement you need at the time of the service you require. If you want to protect your investment at all times, you will need to do so by finding a professional roofing company or a local contractor who is not only qualified and experienced, but also licensed and insured to work with residential customers and clients for all their roofing needs. A professional roofer or roofing company will help guide you through the process of an inspection while pinpointing weak areas of your roof. You can gain valuable insight into the current condition of your roof by working with the right roofing company or contractor to determine the best course of action to take this autumn.
Make Your Landscaping Look Nice
If you're in the process of brainstorming creative family home improvement projects for the fall and you want to spend more time outdoors, consider making your surrounding landscaping look nicer with updates and a few changes. Adding new flowers, planting winter-friendly trees, and even creating a garden for fall items such as garlic and onions is a great way to get involved with your own landscaping. If you want to make your landscaping look even nice from the outside but you do not know where to start on your own, consider contacting professional lawn care contractors who are experienced near you.
Benefits of Hiring Professional Landscapers and Lawn Care Specialists
Hiring professional landscapers is a way to ensure that the vision you have in mind for your home's landscaping is exactly what is created once they are finished with the project. Professional landscapers are well-versed in working with a wide range of trees, shrubs, plants, and flower types, which can allow them to get the job done on time, which may be important if you are planting time-sensitive plants or foods. Additionally, when you choose to hire a professional lawn care specialist or landscaper who operates in your area, you can take advantage of their knowledge of the surrounding climate, which can also help you with making a decision when it comes to selecting the flowers and plants that are perfect for your yard.
Advantages of Updating Your Landscaping
Updating the landscaping that surrounds your home is a great way to enjoy your personal space while making it more of your own. Along with creating personalized spaces outdoors, you can also use new landscaping to instantly boost the curbside appeal of your home and property, which is ideal if you have the intention of selling it at any time in the near future. If you are searching for ways to increase the value of your home, you can look into different landscaping options and solutions that are most likely to add value to your property in a short amount of time.
Immersing yourself in different family home improvement projects that you've been wanting to start this autumn is a way to add value to your home while also allowing you to connect with those who mean the most to you. Whether you're interested in planning a whole new garden or if you are thinking of hiring professionals to assist with roof repairs you require at the time, there are many projects to keep in mind before the coldest months of the year begin to arrive. If you want to ensure you are as prepared as possible for the upcoming winter, you can do so by getting started with a variety of suitable home improvement projects right before wintertime.