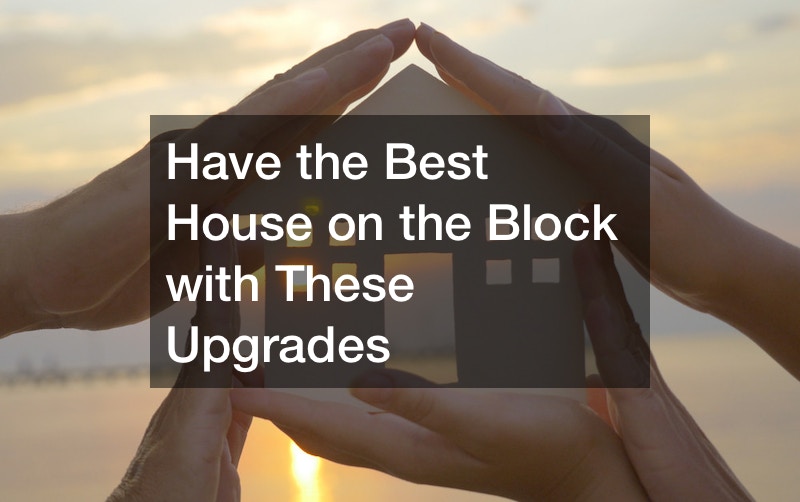 Every neighborhood has its showplace. You've probably seen one in yours or toured neighborhoods looking for a new house. Everywhere has that one home that seems to check off all the proverbial boxes to create a home that seems to belong in Better Homes and Gardens or House Beautiful. With these upgrades, your home can take the top spot and exude endless curb appeal.
In this article, we'll address the home's exterior first. Although this does not add to interior comfort, it shows the neighbors that you care about the appearance of your home. Next, we'll cover the interior upgrades to make the home comfortable and cozy. Let's start with the most ignored spit in nearly every home – the garage.
Upgrade Your Garage
So many garages in U.S. homes become a glorified storage unit. Some homeowners can no longer park their vehicles inside the garage because of the mess! Start your garage upgrade by cleaning it out. Go through every box and bag to figure out what you have, then toss the stuff that you do not use.
Donate old clothes and shoes to the Salvation Army. Hold a garage sale to get rid of unused furniture, camping gear, old bicycles, etc. Whatever's left, donate to charity.
Organize the things you keep in lidded plastic bins or wood boxes. Label each box according to its contents and place them on shelves at shoulder height or higher. That keeps them off the ground and out of people's walking paths.
If your style of garage door allows it, install shelving that hangs from the ceiling. This option lets you store seasonal items like holiday décor out of the way and opens the easy-access shelves for things you regularly use, like tools. Now, about that old garage door.
Replace an old garage door with a modern design to improve security, and curb appeal, and reduce the home's energy consumption. Modern garage door designs use aluminum and include insulation. Choose from a wide variety of styles, including roll-up, roll-to-the-side, swing-open, and accordion. Today's garage doors come in a vast array of options, including those that look like carriage doors, barn doors, and French doors.
There's no need to replace a new or nearly new door though. If the door only went on the house five years ago or more recently, simply update its look with an affordable vinyl wrap. The same technology used to wrap vehicles as rolling advertisements lets homeowners decorate their garage doors affordably. These tough wraps cost about $25 to $100 and come in diverse designs, such as 1800s livery doors, beach sunset murals, mountain sunrises, or professional and college sports team logos.
Before we move on to another area of the home, upgrade the garage floors. Patch cracks in the cement and clean up old oil spills. Add a sealant or epoxy to create a shiny finish that protects the flooring from stains and chips. Once you finish with these upgrades, move on to the path that leads to the garage.
Install a New Driveway
Your driveway probably needs as much attention as most garages because few homeowners think much about it once it goes into the ground. A concrete driveway requires crack fillers and patches to maintain it. After a few decades, it needs replacement, so contact a concrete driveway company about removing the old concrete and laying it in a new driveway.
While you're sprucing up your house with these upgrades, revamp the drive with a new look. Consider edging the concrete with flagstones or rock. Adding pebbles, seashells, or a colored mineral to the cement can create a fabulous look to the driveway that's far from boring and adds to the landscape.
Get Custom Windows

Improve your view of your landscape and neighborhood with custom windows. Perhaps you installed double or triple-pane windows recently, but a storm cracked some of the panes. Contact a glass service, also called a glazer, to replace the window panes.
With these upgrades, the exterior undergoes an improvement, too. Passersby see the new windows and enjoy the added curb appeal. On the home's interior, install custom window blinds to create an improved view of the neighborhood. This adds warmth to your home's interior both literally and figuratively.
Perfect Your Garden
Move on to the home's exterior by updating or installing a garden. Most soil needs a little help, so contact a mulch supplier to obtain the soil materials needed to improve the soil's nutrients to make it appropriate for a garden. If you install raised beds, you can use potting soil to quickly create a garden bed in which you can plant flowers or other low- to mid-height plants.
Perhaps you want to add trees or tall shrubs to a yard but reside in a cold weather climate and know that the seedlings would need warmer weather in their earliest years. Choose potted trees that come in oversized planters. Use them outdoors in warm weather seasons, then move them inside when frost or freezing is threatened. Once the seedlings become fully fledged trees, transplant them into the yard, but remember to cover them when extreme cold threatens.
Consider installing a small greenhouse in your backyard to raise plants safely year-round. With these upgrades, a homeowner in nearly any area of the U.S. could grow flowers, fruits, and vegetables all year. Imagine fresh blueberries in December! It can happen if you cultivate the plants in a greenhouse.
Get New Appliances

With these upgrades, we show you how to update your home's kitchen, laundry room, and other utilities. Let's start with the kitchen, the most used room in most American households. Install a new refrigerator, freezer, stove, oven, dishwasher, and trash or food compactor to revamp the kitchen. Don't worry if you spot a store with great deals that do not deliver because most moving companies will pick up the items and deliver them to your home.
Although the moving company can easily get them there, you will need a contractor to set them up. Typically, a plumber handles the dishwasher and food compactor, while an electrician does the rest. Keep your favorite plumber's name and number handy for the work in the laundry and utility rooms, too.</p>
<p>In the laundry room, a plumber installs the washing machine and dryer. The water line may need retrofitting to the new equipment. Using a licensed plumber ensures all the work in your home meets the code since these individuals could lose their license for shoddy work.
Upgrade the utility appliances, too, such as the water heater and the heating, ventilation, and air conditioning (HVAC) system and thermostat. A newer HVAC system may only need a smart thermostat to increase its efficiency. If the home's water heater has reached the age of 15 years, replace it with a modern design.
Improve your Bathroom
Make your home's bathroom shine with these upgrades that only require one of the talented local plumbing companies. Install low-flow toilets or a waterless toilet, like a composting toilet that transforms human waste into bio-fuel that runs a stove. That's the joy of 21st-century designs – multiple uses from a single invention.
Bathrooms can also benefit from heated towel bars, shelves above shoulder height, and storage bins that provide each family member with a private space for their toiletries and small appliances, like hair dryers and curling irons. Small bathrooms can provide big storage by implementing these types of ideas. Also, install corner shelf units inside the shower to provide plenty of cubbies for items in use.
Revamp the bathroom lighting, too. Upgrade the ambient lighting to provide an overall bright light for this often-used room. Place task lighting at ceiling height in the shower to create a safer environment.
Add on Renovations

Instead of moving to a new home, add on to the one you own. When you build an addition, you first need a demolition company to knock through the wall onto which you will build the addition. Any homeowner can double or triple their home's space with these upgrades by adding a floor above or below the existing one.
Building out can provide an option if you have the space in your yard. Check the city's building code to determine the amount of the lot that a home or other structures can take up. Work with an architect to create a design that works well with the rest of your home.
Make Sure Things Run Smoothly
Home maintenance ensures the house stays as nice as the upgrades make it. Start with HVAC and water heater service, so these two integral appliances keep running ideally. Many HVAC installers offer annual maintenance plans to keep the home's ducts clean and the heat and air operating optimally.
Also, schedule an annual inspection and maintenance visit with a local roofing pro. This keeps the protective "hat" of your home healthy. Examine the foundation each year, too, and have a foundation repair company repair any large cracks or chips. With these upgrades, you ensure that your home's top and bottom stay in great shape.
Annual home maintenance, like roofing or gutter cleaning, costs a little bit, but the damage that the maintenance prevents saves you tons of money. Budget between one and four percent of the home's value for annual maintenance. Create a savings account devoted to this purpose and make an automatic deposit to it each month to save the full amount during the year.
Protect Your Property
We also suggest contacting a local fence company to install a fence that protects your home and property. With these upgrades you've made, it makes sense to further protect the property. Work with an architect or fence designer to choose materials that complement the home's exterior.
Although chain link offers the cheapest route, it doesn't offer much curb appeal. If your home already features a chain link fence, consider adding a vinyl liner that transforms it into a privacy fence. This liner lets the homeowner choose a color for the fence, typically black or gray, but since many universities use these liners to enclose their practice fields, they're available in a wide array of colors, including college football team colors. With these upgrades, a homeowner can easily update a chain link fence to another look.
Other fence options abound. Consider a wood fence or rock wall. Stone or cement also offers a sturdy and attractive option for enclosing a property.
Wrought iron, steel, other metals, and resin offer other fencing choices that add instant curb appeal. Fences don't just create an additional barrier to block out would-be trespassers and thieves, they help protect your family and pets from the inside, too. A fence stops your pets and children from running out into the road, where they might get hit by a car. Creating this perimeter barrier helps ensure their safety.
In general, a wood fence can compliment nearly any style of home because you can paint it to match. A stone or rock wall complements a stone home. Use a resin fence to create the look of more expensive materials, such as stone. Resin enforced with epoxy creates a fierce material that resists damage.
Getting Started Upgrading Your Home
Instead of trying to upgrade every area all at once, choose the projects that most appeal to you and start there. Do you want a revamped kitchen that provides you with a great spot to create delicious meals and entertain? Choose the appliance upgrades first.
Plan your upgrades according to contractors you need to hire. If two projects require a plumber – laundry room and utility room updates – do them both at the same time and save yourself money by only hiring the plumber once. Another money-saving strategy plans work in order that follows one another sequentially.
Here's what we mean. If you need to add a koi pond to the front yard, trellis, and a garden bed, add them in order that tears up, then repair the yard. Hire the excavation crew for the pond first. After completing it, add the garden bed and other landscaping, and finally, install the trellis for plants to climb.
Pick your project and get going. Taking these home upgrades one at a time makes it more affordable and manageable. Upgrade your home, enhance curb appeal, and increase your home's value.