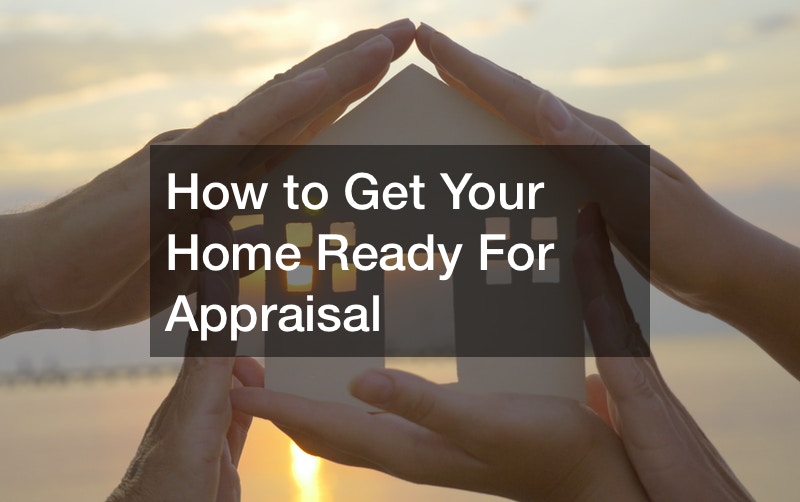 Once you've decided to refinance your mortgage or to put your home up for sale, there's a couple of things that you should start thinking about. For one, you enjoy the prospects of the money that you should save. Yet, you can't do this if you fail to fetch the best price for your home. Just because you've enjoyed living in it, and you've added some interesting features, it doesn't guarantee that everyone will love it the same.
To know if the garage door repairs that you've recently done were worth it, you should prepare yourself for your home appraisal. This is when you get a professional to determine the value of your home. There are various things that you should ensure are adequate before you can schedule your appraisal. If you want to know how you can get your home ready for appraisal, you should keep on reading.
1. Install Safety Equipment
Your home security alarms should be installed before you can get an appraiser to come to your home. When your safety equipment is working properly, it should help to increase the value of your home by a margin. Having your smoke alarms installed in your home shows prospective buyers that you are a vigilant homeowner. This should work in your favor if you live in an area that's prone to wildfires. If you don't get immediate medical attention should smoke inhalation become a problem, you can end up suffocating. Having a fire alarm that works well should protect you from this.
The great news is that nowadays there are smart alarms that can connect to your smartphone. You don't have to worry about controlling your alarms manually. This means that you can be away on holiday and still have your alarms functioning. If you haven't installed any alarms yet, the following benefits of a smart alarm should convince you to.
Your smoke alarm should alert you of any fires even you're not home

It can detect carbon monoxide

It can wirelessly connect to other alarms

You can cook in peace

It sends a reminder to change your batteries
2. Critically inspect your home
It's important for you to be objective about the state of your home. To do this, you should give yourself enough time to walk around your yard to assess any damage. Look at your roof to see if you need to call your commercial roofer for any repairs. There are many things that can decrease your home's value. A damaged roof shouldn't be one of them. But don't stop there. Go inside your home to see if there's anything else that needs to be fixed. If you find anything that can affect your appraisal, you should get it fixed as soon as you can. There are certain repairs that you should avoid doing yourself. It's always important for you to ensure quality craftsmanship on the features that attract onlookers. The last thing that you want to happen is to have your home being put below its market value because of things that you could've easily avoided.
When it comes to major structural components such as your roof, you don't want to compromise on quality. The moment that you see any potential damage, you should contact your local roofer to get an assessment done.
3. Notify your appraiser about any home improvements
Let's say you just had an HVAC service provider come to your home a week before your appraiser comes. You should notify him about such improvements. Doing this should positively impact your appraisal. It shows your appraiser that you take improving your home's value seriously. This doesn't mean that you should spend a lot of money on doing home improvements to impress your appraiser. You should still stick to doing necessary home improvements for as long as they positively influence the appraisal on your home. Just make sure that you spend time on the improvements that will matter the most when the day comes.
4. Spruce up everything
The great thing is that you don't have to spend a lot of money to get your home to look new. A fresh coat of paint on your walls or vinyl fence can go a long way. You'd be surprised to find that even doing small things can make a huge difference on your appraisal performance. The thing that you should consider is making sure that your home looks modern. An updated home that has decor that matches should help you to score high on your appraisal. This is why you should think long and hard about that outdated decor in your lounge. Make sure that you spend a lot of time sprucing up the spaces that attract the most attention in your space.
5. Research other homes
Getting a positive appraisal doesn't and with just repairing your garage door. Sometimes it requires you to do some research on the other houses in your neighborhood. First things first, you should find out how much the homes that have been sold went for. Look at the homes that match yours. This can give you an idea of how much your home is worth. But you shouldn't stop there. If your neighbor, Joe, just had an appraisal done, you should find out what problems he may have come across when his appraisal was being done. If Joe is stingy with information, it's Okay. You'll find that it's already public record. You just need to know where to look to find this Information. You'd be surprised to find that Joe's appraisal can help you to improve yours.
6. Clean everything
You should clean your heart out. Take a few days off to dedicate your time to clearing your walls and to declutter your basement. It's important to clean your home so that it ends up looking newer when your appraisal happens. It shouldn't end with washing the interior. You should take it outside and give your driveway a much-needed power wash. A lean home makes everything look attractive even when you haven't spent money buying new carpets. You should get deep and consider using a septic tank services provider to clean your pipes. The last thing that you want is your appraiser suffocating through any foul smells.
7. Care for your yard
Before the day of your appraisal comes, you should give your yard some tender loving care. Mow your grass and snip the shrubbery. And if you can afford to, invest some money in a tree trimming service. This service can offer you many benefits. These can be summarized as follows.
It helps to improve the health of your trees

It improves your trees' exposure to sunlight

An expert can detect any potentially dangerous diseases before they become serious

It minimizes any damage from surrounding structures

It increases your tree's aesthetic value
The great thing about taking extra care of your yard is that you're not limited with what you can do. For example, you can add some unique features. Or if you want to make out other things, you can think of ways to add more color to make it more inviting. It's important to make sure that you've done all that you can to remove any unwanted clutter. And that you've taken the right direction with removing your weeds. You want your yard to leave a lasting impression before your appraiser even gets to see the interior of your refurbished home.
8. Think of your building materials
Do you remember when you first moved into your beautiful home? The roofers had done a spectacular job with choosing the materials for your roof. Fast forward to now, there are more eco-conscious materials that you should consider when you're replacing your roof. The same can be said for most of the other materials in your home. The most important thing that you should think of when you're deciding on the type of materials that you should use is whether they're sustainable or not. The thing is, building materials can cost you an arm and a leg. This is why it's important for you to choose building materials that can benefit you in various ways in the long run. For example, your building materials should last for long, and they should be easy to maintain. Moreover, they should still match your aesthetic style.
Your appraiser takes such things into consideration when it comes to reviewing the value of your home. You should always remember that it's mainly about what your home can offer the next buyer. So, the more time you invest in ensuring that your home meets certain standards, the better the outcome should be for you.
9. Don't overspend
Did you know that there's an unwritten rule of how much money you should spend on your quick fixes in your home? If you've never heard of the $500 rule, you're not alone. This rule basically mitigates your overspending. Simply put, you shouldn't spend any money on quick fixes that cost more than this amount. If you realize that you're going over your budget then you should step back and decide if this spending is warranted or not. Your small issues shouldn't cost more than $500 of your total home value. The last thing that you want is to find yourself spending a lot of money and getting an appraisal that's still below market value. You should ensure that your quick fixes are just that. Most importantly, you should make sure that you stay within a specific budget for all of your home improvements. At the end of the day, you should make money instead of spending all of it on your appraisal.
10. Consider your neighborhood
Now that you've prepared your home as much as you can, you should think of what you should do next to ensure that you're ready for your appraisal. The last step is to look at your surroundings. How has your neighborhood changed from the time that you moved in? Are there any new buildings or schools that have been built? Have there been new improvements such as parks that have increased the overall value of your neighborhood? Similarly, have there been events that have negatively impacted the value of your neighborhood?
If there's more good changes that have taken place over the years, you should point these out to your appraiser. Your home's value isn't only impacted by the garage door repairs that you do. There are many factors that come into play. It's important for you to understand the entirety of the process. This should help you to know if your appraiser is being unfair to you. Moreover, it should help you to negotiate a better market value for your home. This is when you should sell your home and neighborhood to the beat of your ability. Your appraisal should also be influenced by the effort that you put in to ensure that it goes according to your expectations.
In summary, it's always important for you to stay on top of your game when you've decided to sell your home. You want to ensure that you do all that you can to get the most out of your decision. The driving motivation behind your decision is to make money and to save as much as you can. This is why it doesn't make sense when you should spend a lot of money to improve the status of your home. However, it doesn't mean that you should forget about sprucing up your home as good as you can. You should.
In fact, a little paint job here, a bit of trimming the yard there, and other small things in between should be just what you need to ensure that your home stays on par with its market value on the day that you decide to get your appraisal done. If you follow this guide, you should stay prepared for unexpected events on your appraisal. But it's also important to speak to someone who's gone through the process. You might be surprised to learn that there are other things that you should still consider.