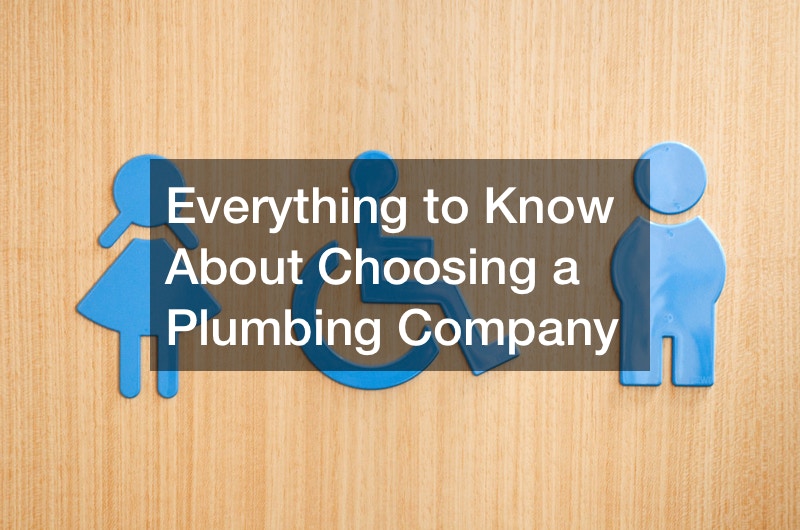 In most cases, it is not a wise decision to choose a plumbing company based solely on its advertisements or brand name. The fact that they are big does not mean that they offer the best services in the field, and also, there are small companies out there with excellent track records in terms of their service delivery. If you want to be sure of the plumbing company you choose, here is everything you need to know that will help you make an informed choice when doing your research:
Ask About Expertise
Always consider hiring a professional when you are ready to have some plumbing work done, whether for a small or big job. A plumber is someone who has been trained in the installation of waterworks and sanitation systems. A person could be considered a plumber by trade but not have completed all educational requirements, which means they might not have to get a license.
There are different qualifications needed to become both an apprentice and a journeyman, depending on where you live. You can find more information on what it takes to become certified to provide plumbing services.
It is always best to hire professionals because there are regulations that they must follow. The regulations will vary from state to state, but the standards are still the same regardless if a license is required or not, such as using the correct parts and following proper protocol. You cannot always tell the best plumbing service to hire, which is why many people use word of mouth to see what others have experienced. The plumbing company you choose needs to provide references so that you can call and speak with their former clients.
Insurance Is Vital
One thing to remember is that even if plumbing contractors are licensed, they might not be insured. Insurance can protect against property damage or personal injury, which should be covered by the professional. This way, if there is an accident, it does not become your responsibility to pay for damages incurred. Since there are different types of licenses, you will have to check with the state if they are covered by insurance.
Before hiring, it is something to ask about because it will protect you if anything happens to your property. If you choose a licensed company that is insured, then you will not have anything to worry about if something happens during their visit. Also, this means they are up-to-date with all current rules and regulations within your state. More advantages come with hiring someone who has these certifications, but it is still best not to lack any prior experience. Once you have found a reputable company that you feel confident in, then the relationship can be built on trust and respect on both ends.
Ensure the Professionals Have the Relevant Knowledge
When choosing a professional for your plumbing services, always make sure they are knowledgeable. Do not settle for someone who may be available immediately or cheap at first glance but does not have the skills needed. If the plumber does have experience in your area of need, then that is even better! A plumber should know what tools are needed and how to handle any situation that might come up. They also need to know the correct parts to use so that your plumbing system works efficiently without posing a threat of damage due to incorrect installation. The job they do should not take more time than needed while also creating minimal disruptions for you.
This is why you must know the qualities of a good plumbing company to avoid experiences like these. Do your research beforehand so that once they arrive at your home, there are no inconveniences because certain parts were not ordered or tools were not supplied. Then when they are done, everything from start to finish can be from smooth sailing instead of rough waters.
The Price of Plumbing Services
Although cost is always a large factor to consider when hiring a local plumbing company, it should not be the only one. The last thing you want to do is hire a cheap plumber only to have them spend more time in your home than originally expected because of poor knowledge or low skills. The result would be the same if you hired someone who was double the price, so it is not worth compromising quality.
If you can find a plumbing repair company with an average rate with all the qualities mentioned above, finding someone will be easy! Not having to worry about dealing with problems after their visit or being charged extra hours because mistakes were made due to lack of knowledge will ensure that you choose the best.
You should always be upfront and clear with any plumber before hiring them. Many companies will charge you a consultation fee to help prevent those who might leave after spotting costly problems and not completing the job. The cost is worth it if there are no surprises once the work has been done.
A good plumbing company will walk through everything with you so that both parties know exactly what is involved in each job before getting started. Something else may be included, such as needing supplies, parts, or additional time due to unforeseen circumstances, which may require more fees. Still, they should let you know beforehand so that there are not any misunderstandings about costs.
If you choose a company with experience and insurance, knows their staff, and does not cost too much, then you have found yourself a plumber that will do a great job for you!
Ask About Maintenance Services
Maintaining your plumbing system is your responsibility, so you must know what signs to look for when something might be wrong. For instance, slow draining sinks or toilets can cause backups, increasing how much water can enter a residence. Root problems can also damage your home and allow unwanted material into the pipes, such as tree roots and debris; this could lead to clogs or other issues in drains and sewers.
It is best to call a professional before things get out of hand! Plumbing companies will provide an upfront cost estimate on the work that needs to be done. This way, you can prepare a budget and figure out what needs to be done first if plumbing issues exist in multiple places.
If your home is more than 20 years old, you should get your pipes inspected every couple of years to ensure that everything is working properly. It will prevent the unpleasantness of replacing major parts of your system, which could significantly increase costs.
Several types of inspections depend on what the plumber finds during their inspection, so they might suggest a video or dye testing if they see an issue. It would be best to consider getting your whole house water filter since it ensures clean drinking water for everyone who comes in contact with the faucet.
Plumbing companies can install this device for you if you purchase it from a reputable retailer. This can be a one-time purchase that will save money in the long run and ensure you have quality water for years to come.
The Company's Time Table
When having work done, the plumbing company needs to keep a timetable: especially if the company does not offer 24-hour plumbing services. You should receive a timeline when the initial appointment is made, so you know what to expect. A good company will want you to be aware of your whole experience from beginning to end.
If they cannot stick to a schedule, you might have to wait longer than needed for your plumbing work to get done which can be frustrating.Scheduling allows you to know when the plumbers will arrive so that there is little chance of having an interruption in your daily life. It also helps them stick to their work schedule because they do not want to miss out on other customers' time slots.
Plumbing companies should always strive to complete the job as quickly and efficiently as possible because this shows that they understand what it is like to be inconvenienced by slow service. A good company knows how important it is for you to get back on track quickly, which means they should never make false promises or extend the time needed because of unforeseen circumstances. Having a confirmed timeline before beginning any work ensures many happy customers can carry on with their day without worry!
Company Licensing
Licenses are your best bet when searching for a reputable company to do any work for you. Every state has different licenses they require, but the standards are still the same regardless if a license is required or not, such as using the correct parts and following proper protocol. You cannot always tell the best plumber to hire, which is why many people use word of mouth to see what others have experienced.
The plumbing company you choose needs to provide references so that you can call and speak with their former clients.If all else fails, it is important to go online and look at customer reviews! This would give you an idea if other customers were satisfied with the service provided by a particular plumbing company. It is also good to check for any complaints filed with the Better Business Bureau (BBB), so you can find out what issues they might have had in the past. This way, you know if it's worth your while to hire them or not.
When searching for a reputable plumbing company, always remember to ask questions and get everything in writing! If something seems off, then it is best to cancel the agreement and look elsewhere. A plumber should never make you feel uncomfortable when explaining how they will do their work, along with providing an estimate of costs. Be wary! Sometimes people are not great at communicating, which is why misunderstandings lead to disagreements that turn into arguments because one party did not comprehend what was said. This could turn into a bigger issue than you are prepared to deal with, so it is best to choose someone who can put your worries at ease.
By asking these questions, you will better understand their work and if their prices are reasonable. Additionally, this will show how reliable they are as a company. The plumber can explain things clearly without making assumptions about what you know or do not know about plumbing. It would be best to ask for proof of any licenses they might have because those need to be verified with the state in which they were issued. When choosing a plumbing company, make sure that not only does everything sound good but it looks good as well! Go online and check out their website or social media page for any reviews.
Plumber's Experience
When choosing a plumbing company, you should also find out how long it has been in business. Usually, this entails checking the date of incorporation. A new plumbing company might seem like it is worth giving them a shot because they are new, but if they do not provide any references, you are better off looking for someone in business just as long.
You do not have to stick with the same plumber every time you need something done! If you are not happy with their service or price, then switch it up! You could also get recommendations from your friends and family members who may have had work done recently. Everyone's plumbing needs are different, so not everyone will recommend the same plumber.
It is always important to ask questions about guarantees when hiring someone. What does this guarantee include? Will they come back to correct things if problems arise in the future, or are their warranties only valid for a certain amount of time after they leave your home?
While hiring a plumber, you should also ask about the availability of emergency services if something goes wrong after the plumber has left. Does the company provide 24 hour plumbing services? How much do they charge for it, and what types of issues are covered? Plumbing and AC repairs are vital aspects of every home. Be careful as you choose service providers for your home.