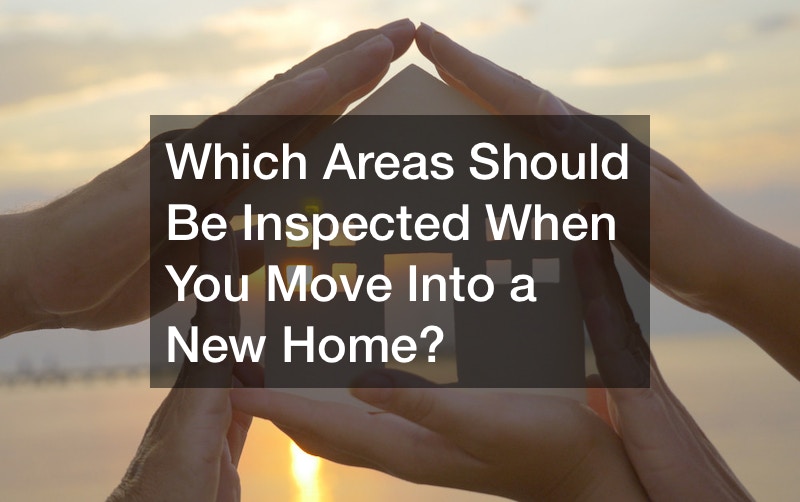 Moving into a new home may present some flaws or issues that should be addressed in time to improve the living situation while you and your family reside there. Even a newly built home can present issues that should be inspected while occupied to guarantee that everything is working well. There are major issues, and there are minor issues, and today's article covers some of those concerns that could pose major issues later down the line of those that are rather minor.

Roof Inspection
The roof might not come up as one of the first things to be concerned about when purchasing a new home, but indeed it is one of those things to consider. The roof protects the structure, tying it all together and helping to secure the building. The roof also protects the home's inhabitants against elements like wind, rain, and sun. However, sometimes issues like damage and natural wear and tear can cause it to slack on functionality and start resulting in issues like leaking, insulation issues, and so on.
An inspection while occupied will help uncover any issues, such as damage to the roof that may be causing the insulation and other concerns for the home residents. The top things to check include damaged and missing shingles, blocked gutters, moss growth, visible light coming through from the outside, and sagging of the roof. These are just some of the problems that signal your roof needs repairs. Contact your local residential roofers to establish what fixes your roof requires.
Driveway Check and Repair
Another area for home inspection while occupied includes the driveway. You may not consider the driveway something to consider in the inspection list, but it is. For the most part, you need the driveway to park your vehicle and that of those visiting you. A driveway in good condition helps make parking easier and won't damage the car tires or risk issues because of potholes or uneven ground.
There are a few signs you can look out for that will tell you may need to repair your driveway, the sooner, the better. Driveway repairs may include cracks in the surface of the concrete; there can be one or lots in parts of the surface. Loose edges where the concrete was flush, pooling of water in sections of the surface, and the clear visibility of potholes.
The cost of concrete driveway repairs varies from one state to the next, depending on the extensive work required. According to Bob Villa, the estimated driveway costs are about $798 – $2,635, with an average of $1,715.

House Siding Design and Fixes
Siding plays an important role in the property, and it isn't only a feature to enhance aesthetics, although siding does do a great deal to enhance the look of the house. The importance of siding for the house includes insulating the home from the outside; it also adds a layer of protection to the home.
You may be a DIY enthusiast, and there is nothing wrong with DIY work as it saves a lot of money and only costs skill, time, energy, and know-how. But, the incorrect installation of siding can lead to unwanted leaking, rising dampness, issues affecting the foundation, temperature problems, and mold.
The benefits of getting the siding install job by a professional company will ensure that the job is done properly and that you can rely on the work to last, function, and be effective. Plus, with a professional and certified company doing installations, you may enjoy a manufacturer warranty and a warranty on the completed installation work.
On average, the siding is another one of the areas of home inspection while occupied to be checked as this can be problematic should there be issues. You may get a few quotations before hiring a company to do the job, but on average, a siding install can range between $1 – $15 per square foot, depending on the material and the extent of the project.
Septic Tank Check
Septic tanks are vital for all purposes, but the system must be taken care of because it can lead to issues later down the line. The benefits of taking care of your septic tank system include but are not limited to protecting the environment from contaminated water, and as a result, you and your fellow neighbors are protected against contamination, reducing the risk of infections or bacteria.
Another huge benefit of septic tank installation is that it raises the value of your house and brings in a good ROI while also saving you money in the long run. Septic tank pumps can last up to 10 years, while the drain field can have a lifespan of up to 30 years. Ask the local septic tank installers for more information and all you need to know to improve the lifespan of your HVAC.

HVAC Units
When it comes to installing HVAC systems, you can benefit from temperature regulation in all seasons. You can also benefit from having local HVAC companies install the system for you because they know exactly what tools to use, how to set up the system, and all other in-between factors. A professional HVAC installer will also be able to tell what systems will work well in your home, depending on the space and the type of system.
The other benefits of installing an air conditioning system are having better air quality, lower allergies as a result of pollen and dust, moisture regulation, hence reducing the need to use a separate dehumidifier, and lots more. Looking after your HVAC system will also help lower the cost of energy bills, allowing you to see more savings where this is concerned.
You can have your system checked if you see signs of leakage, bad air quality, low airflow, the unit is noisy, more than usual, the cooling air doesn't work properly and this results in uneven cool air distribution. When you notice any of these problems, you should call your local HVAC specialists to have them checked.
Water Heater
The water heater in your home is a vital part of heating the water that runs through your home's pipes. Heated water is essential for delightful warm showers, baths, and even washing clothes. But this tank system has several components that work together to create the water heating function required.
The typical water heater has a shell outer, but it also contains other components like a thermostat, dip tube, heating mechanism, pressure valve, and more. Signs you might need your water heater checked or that it might be faulty include water not heating, smoke emitting from the vents of the heater, an odor coming from the system, there is rust and or leaking occurring on the system. You may need water heater service experts to assist in installing a new system or repairing a current one.
Check the State of the Fence Surrounding the Property
Having a fence is beneficial for many reasons, like privacy, safety, and security, as well as keeping your home safe from drafty winds. If you have already bought a place with a fence, then home inspection while occupied details must be done on the existing fence.
Checking your fence and doing a home inspection while occupied is important. The thing with a fence is that it can deteriorate over time, and having it checked is vital for safety and functionality. If you see sagging forward, the tension in certain parts together with sagging in others is a surefire sign that the fence needs fixing or replacing. Consult with your local fence installation company for assistance and advice.

Patio Installation and Repair
Home inspection while occupied is also crucial before you move completely into your new home concerning the patio. While the patio is outside, it still forms part of the home's appeal and aesthetics. A beautiful patio makes for a beautiful and inviting home. Still, issues with the structure's integrity, weight distribution, and weathering all need attention.
Different patio materials show different signs of needing repair; for instance, a concrete patio that is cracked and damaged may need repair. An old, neglected, weathered patio also shows signs of needing attention. You should contact the trusted patio builders in your area for a quote, and perhaps you can have them install a new one or fix and repair the existing one.
Swimming Pool Check
Swimming pools are such excellent additions to any home, and they are lovely for those hot summers to cool off while entertaining family and friends at a barbeque. Check the pool for your home inspection while occupied because there might be hidden concerns such as loose tiles, water leaks, roots growing through the pool, deck cracking, and the plaster of the pool might be cracking too if you have a heated pool, it may no longer be serving its function.
The swimming pool contractors can help you fix any issues with the pool. They may do pool repairs like fixing the pool pump, repairing leaks, resurfacing, tile replacement, and filter repair or replace. When it comes to prices for swimming pool contractors, it all depends on the state and region you're residing in and the amount of work to complete.
To install a brand-new pool can set you back financially between $28,00 to $55,000 for an inground pool, and of course, this also depends on the size of the pool.
Windows Check
The windows of the home are vitally important as it plays an important role in keeping the elements out, insulation, and, in general, protection. There are some key aspects to look for when buying a home, and the windows are one of them. Cracked window frames are a telltale sign that the homeowner may not have taken care of the window maintenance, and thus, other aspects of the house might also be an issue. Is the double-glazing still working as it should? Double glazing might be a problem and need to be replaced if you notice that there is water vapor and condensation.
A window repair service can assist you with all your needed repairs to your windows, as well as the installation of new windows. They may also help check in their inspection if there are any issues you might have missed or not known to look for.
Work With the Best
When working with industry experts, you can be sure that you are getting excellent service. What's more is, the experts have a keen eye and will know what to look for in the event of having to repair or spot a problem.
If you are an avid DIY enthusiast, you might be able to go ahead and do a home inspection while occupied. You may do this by yourself because you probably already know what to look for by heart. While you may not have all the tools to repair the issues you find, you can get help from the experts to assist.
Tips to Finding the Right Specialist
Go with recommendations
Choosing to work with reputable brands and companies is the best way to get quality guaranteed. You can select the companies you want to work with by hearing what others have to say about them and their experience working with them.
An established portfolio
Does the company or contractors you want to work with have a portfolio to show for the work they've done? If not, then that may be a red flag; however, if they are new to the industry, not having a portfolio may simply mean that they need to get more customers to build up a portfolio.
How many years of experience does the contractor or company have?
Checking how long they are doing the work is very important as this also shows how well they may be able to do the work you need to do. Check to see how many years of experience they have under their belt.
Are you looking to relocate to a new home? Try looking at these pointers so you can sort out any issues before getting 100% comfortable in the new place. Some fixes may be less expensive, while others could cost a weighty deal of money. Try and reserve a budget for any additional repair work.