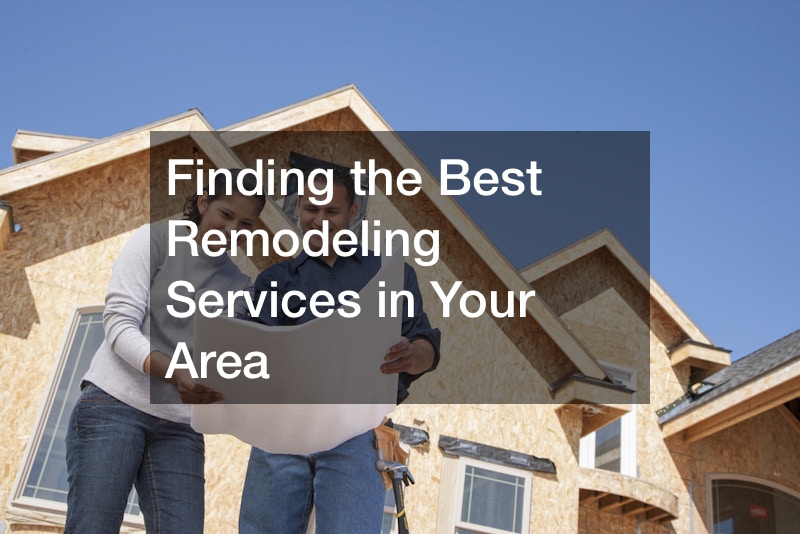 Renovating or remodeling any area of your home is a great way to transform your space while simultaneously adding value to your property. Whether you're thinking of building an addition to your home or finishing an existing basement, you can do so with ease when you have the best remodeling services by your side. Anytime you're embarking on a new home renovation project, knowing how to go about finding the best remodeling services in your area can ensure that the outcome of the remodel is exactly as you originally envisioned.
Hiring the Right Experts
Hiring the right experts is key whenever you are searching for the best remodeling services and remodeling contractors near you. Without the right expert, you may find yourself more frustrated, stressed, and out of money. Before you begin any renovation around your home, consider the type of expert or provider you may need to hire. Then, read online reviews to learn more about their level of professionalism, communication style, and the quality of the services they're able to provide. This will allow you to make the most informed decision possible.
Common Experts to Consider Hiring
As a homeowner, you will likely have many different encounters with a wide range of professionals, local contractors, and trusted experts that work on various areas of the home. From a traditional electrician to solar panel experts and IT technicians, there are many different people you can rely on. The more familiar you become with specialists who can assist you, the easier it will be for you to find an expert that's just right for the job.
Addressing Concerns
When you're in the market for the best remodeling services near you, it's important to seek out contractors or providers that are willing to work with you on addressing your concerns. Whether you're looking to find trusted flooring companies or a reputable electrician who works independently, it's important to hire someone who is willing to listen to your needs. A contractor or company that's dismissive or not concerned about your own thoughts shouldn't be hired to work around your home.
The right remodeling contractors and companies will help you to inspect any area of your home where you may be experiencing issues. They can help to pinpoint problem areas and identify issues that can grow into larger and more significant worries. Additionally, working with the right experts will allow you to avoid major repair costs associated with ignoring routine maintenance and repairs.
Preventing Problems
Some of the best remodeling services can help to guide you through the process of preventing problems around the home. When you're working with a reputable plumber, electrician, or even a pest control company, ask questions regarding the issue(s) you're experiencing to learn more about potential solutions. Be sure to make them aware of your budget for these tasks so you can choose a solution that won't break the bank.
Necessary Upgrades
Finding the best remodeling services is essential for any necessary upgrades or installation jobs you need around the home. As a homeowner, there will likely be a time that you will require an HVAC inspection, the installation of new appliances, or even metal roofing services. Whenever you're thinking of undergoing necessary upgrades around the home, doing so with a professional and reputable contractor or remodeling professional by your side can make all the difference. Talk to the experts to learn about when you should consider replacements and if repairs are still feasible for your existing systems.
Popular Types of Home Upgrades
Homeowners will need to make numerous upgrades in and around the home while they're residing in the property. Over time, properties will begin to deteriorate if they're not properly managed and maintained. Implementing necessary home upgrades may be as simple as installing new flooring and doors. Replacing a home's sewer line or rewiring a home's electricity may also be upgrades that may need to be completed in order to protect the functionality of your property.
The Next Step
Once you find remodeling professionals and service providers near you that are trustworthy and reputable, you can request a consultation or a phone call. Learn more about what a local remodeling company specializes in over the phone or by meeting in person. Inquire about the types of major upgrades you are interested in around your own home to determine if your chosen remodeling service providers are genuinely qualified to take on the renovation project you have in mind.
Protecting Your Assets
Whether you're updating one entryway into your home, installing a security system around your property, or building an entirely brand-new addition, hiring the right renovation service provider will ensure that you're capable of protecting your investments and assets at all times. Whenever you hire a new renovation specialist or contracting company, be sure to verify that the company or individual you are hiring is not only insured but also licensed to conduct the type of work they intend to do in your own home. Licenses, certifications, and insurance can help you to remain stress-free while professionals get to work on completing your envisioned renovation and help you avoid substantial out-of-pocket costs. Another way you can protect your property is to hire a professional to perform a garage door repair. This allows you to safely store your vehicle and keep your possessions out of the prying eyes of anyone looking to take what's yours.
Why It's Important to Hire Professionals for Renovations
Hiring professionals who specialize in residential renovations that protect your property is not only a way to grant you peace of mind, but it will also help you to streamline any project you want to start. Setting deadlines and sticking to them can be challenging whenever you take on a DIY project on your own. If sticking to a schedule is important to you for your next home renovation project, you will need to have the right experts and renovation specialists by your side. Be sure to inquire about the number of workers a company has on staff and the potential timeline for the project's completion in order to guarantee the work can be completed on your schedule.
Safeguarding Your Home
Safeguarding your home is possible by learning more about the best remodeling services near you. Whether you're ready to take the leap and invest in a new security system or if you're interested in aluminum fence installation solutions, you can safeguard your home by working with the right experts in your area. It my also be necessary to talk with professionals who can protect your privacy. Talk to a blind installation company or a company that can install privacy fencing so you can stay out of sight and relax in your home.
Making Space
If you're simply interested in making space around your home with a remodeling project or if you want to construct new outdoor structures, you will need to consult the best remodeling services and providers in your vicinity. Working with qualified and experienced remodeling experts will provide you with unique ideas and solutions for making space both inside and outdoors of your home. A home renovation service can also help you to make the most out of any additional space you're not currently in. Talk to them about the costs associated with adding an addition or adding a new shed so you can weigh your options and make the choice that's right for you.
Pest Problems
Taking care of pest problems can be extremely stressful, tedious, and in some cases, even overwhelming. Whether you are experiencing an infestation of termites, ants, or if you're in need of bee & wasp removal services, calling on the right pest control company can make all the difference. Working with a local residential pest control company service provider will allow you to get any pests you have in your home under control as quickly as possible.
Pest control experts aren't only experienced with the type of tools and chemicals they use to treat pest infestations, but they are also knowledgeable when it comes to understanding the environments that are optimal for various regional pests. If you are new to an area or if you're interested in learning more about local pests, you can do so by hiring a trusted pest control service. This can help you to prevent infestations before they're able to take control of your home.
Major Changes
Whether you're thinking of investing in a brand-new outdoor patio, inground pools, or if you're thinking of building an entire guest house outdoors, you will want to ensure you're prepared for the consequences of these projects. Before settling on a decision regarding the contracting company or contractor you intend to hire for your next remodeling project, be sure to verify that your chosen expert is truly qualified. Compare portfolios and past projects that a building service has completed in the past to review the quality of work that has been provided as well as the type of materials and styles that were implemented throughout the process. Always be sure to verify that any contractor or remodeling service that you're thinking of hiring for work around your own home has warranties to protect you from additional costs.
Aesthetic Changes
If you're interested in aesthetic changes with the remodel or renovation project you have in mind, finding the best remodeling services will require you to conduct a bit of research beforehand. Hiring a renovation specialist or expert that works in construction is not as simple as choosing the first service provider you find. If your main concern is aesthetic changes to any area of your home, you may want to take some time to familiarize yourself with the different styles that each remodeling expert near you can deliver. Talk with experts at local companies in your area to understand what materials they're able to work with and the types of changes that can enhance the appearance of your home. For example, a company that specializes in metal roofing may also be able to assist you with siding services.
In order to learn more about what types of styles a local driveway paver, painter, or construction worker is familiar with, you will need to research their website as well. The website may also be able to make you aware of the benefits associated with using different types of materials for projects and which materials may be right for your home based on the local climate. Making these aesthetic changes is a great way to boost your property's value and prevent common issues that plague your community. If you're considering selling your home in the near future, be sure to reach out to local contractors to understand what changes you can make that have the largest return on investments. These will allow you to receive a rate for your property that exceeds its current perceived value and may help to draw in the attention of prospective buyers.
Knowing how to locate the best remodeling services near you is imperative when you are a homeowner or property investor interested in making upgrades around your lot. When you have access to the right providers and resources, you can move forward with your renovation or remodeling project without a second thought. Whether you're thinking of investing in a brand-new bathroom in your home or if you want to build a bar or a game room, you can do so by connecting with providers that offer the best remodeling services in your local community and region. Taking your time to review your options and consider what changes need to be made prior to signing a contract. This ensures that you're being wise with your spending and that the changes you're focusing on will be impactful.